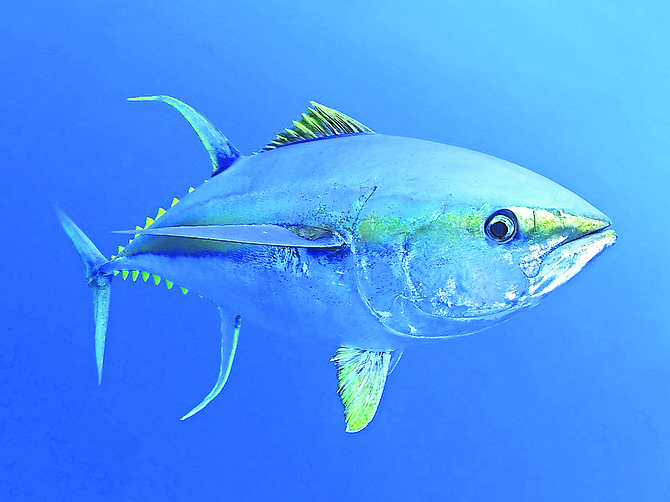 By AVA TURNQUEST
Tribune Chief Reporter
aturnquest@tribunemedia.net
THE Bahamas National Trust is strongly opposed to the introduction of longline fishing within the country's economic exclusive zone - a destructive practice it warned that could change the Bahamian way of life forever.
BNT Director of Science and Policy Shelley Cant Woodside explained that while the Trust was open to exploring the possibility of developing sustainable pelagic fisheries for commercial fishermen, it would not support any legislation that allowed such a devastating practice.
In her statement, she noted comments made by Minister of Agriculture and Marine Resources Michael Pintard, stating the intent of his Ministry and the Department of Marine Resources (DMR) to explore expanding commercial fishing to species such as tuna.
"The BNT is aware that many pelagic species are already being fished daily in Bahamian waters and has not taken a position opposing Bahamian fishermen targeting these fish," the statement read.
"What the BNT has raised with the Minister and DMR officials are concerns regarding the use of unsustainable and destructive methods. The BNT is aware that there are persons advocating for the amendment of Bahamas fishery legislation to allow for longline fishing. This practice is known around the world to have devastating effects on marine resources.
The statement continued: "The BNT would not necessarily stand in opposition to commercial fishermen exploring the feasibility of developing sustainable pelagic fisheries, but we are emphatically opposed to the establishment of a long-line fishery within the Bahamian Economic Exclusive Zone."
Longline fishing is the use of hook and line gear that can have thousands of baited hooks on lines which extend many kilometres (km) from the vessel. Long lines can be used to fish Pelagics near the surface using floats, or near the bottom using weights; depending upon the targeted species, Ms Cant Woodside explained.
"Longlining has been responsible for the decimation of fisheries around the globe, resulting in huge amounts of waste, as sharks, marine mammals, seabirds, sea turtles, other non-targeted fish and juveniles end up on the line," the statement continued.
"This fishing method may not destroy entire habitats when compared to destructive methods like bottom trawling (also known as dredging), but is deemed extremely wasteful and a significant contributor to the decline of marine resources generally.
Ms Cant Woodside noted pelagic fish often have very slow growth and low reproductive rates, and therefore caution needs to be exercised when targeting these species.
Among species exploited locally include red snappers, of which there are at least five different species; tunas, four species; mahi-mahi; sailfish; blue and white marlin; and wahoo.