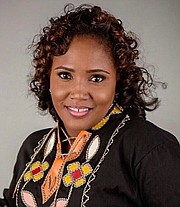 By Felicity Darville
The Bahamas is a small country filled with incredible people and it never ceases to amaze me when I have the good fortune to meet one of them. In this case, it was a Bahamian woman who is a trailblazer in medicine and continues to work hard to improve the lives of Bahamians suffering from hearing issues.
Dr Kim Scriven led a team of local and international experts who worked together to conduct the first successful cochlear implant in The Bahamas. The surgery was performed at Doctor's Hospital on July 4, 2015, through a collaborative effort with world-renowned surgeon Dr Brian McKinnon. Scriven was the coordinator carrying out intraoperative testing of the implant, and both were assisted by Drs Robert Ramsingh and Walter Gibson (ENT), Dr Sy Pierre (anaesthesiologist) and Ranjeeta Ambett (ENT specialist).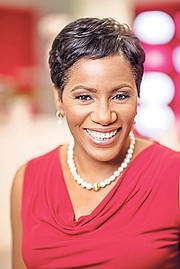 The fortunate patient was Wesley Paul, who was born with normal hearing but at the age of 31, suddenly lost his hearing. Paul learned about Dr Scriven's hearLife Clinic and paid a visit with high hopes of returning to some sense of normalcy. Some eight months later, thanks to the generosity of the clinic, Doctors Hospital and contributing surgeons and physicians, this young man became the first person in The Bahamas to receive a cochlear implant.
By partnering with one of the world's leading manufacturers of implants, Med-El Electronics, she was able to bring world class treatment for specific types of hearing loss and offer the best possible solutions to individuals affected by hearing loss. Med-El Electronics, headquartered in Innsbruck, Austria, is a cutting edge, technologically superior company which manufactures implants that can be found in more than 100 countries around the world.
"It was such an awesome feeling, a feeling of accomplishment to know the vision that Dr Barry Rassin and I discussed 15 years ago, that I was able to bring that to fruition," Kim said.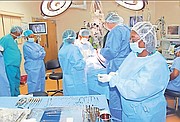 "It speaks volumes to his commitment and the commitment of Doctor's Hospital in putting in place the necessary infrastructure in place to support such a programme. Beyond that, I thank Med-El, for believing in this little country - a mere dot on the map. We had the supporting facility and personnel here to represent their world-renowned brand and hence establish the first clinic outside of the Americas and in the Caribbean. It is such a huge compliment and I feel honoured to have that privilege."
She is the head of audiology and local operations at hearLife Clinic on Blake Road, which was the third of Med-El's international subsidiaries to be established. Others are in Dubai, Canada and Italy. Her goal was to ensure the local office was provided access to cutting edge technology which was safe and affordable with world reknowned surgeons and highly trained staff. It is the only medical facility in The Bahamas to receive the ISO 9001:2008 certification, which signifies that it is operating according to the world's most recognised standards for quality management.
"Our focus was and still is medical tourism," she said.
"There are people in the Caribbean and other areas who need the cochlear implant and middle ear implant and they can come to The Bahamas to receive first class treatment, activation and care and then return to their country."
Countless Bahamians have benefitted from Kim's commitment to improve the hearing conditions of her fellow citizens. One of them, popular youth pastor Dave Burrows, recently found himself unable to hear out of one ear; he could only hear a piercingly loud ring due in part to tinnitus. Dr Scriven assisted him with an implant that has allowed him to continue ministering.
HearLife, now in its third year, has completed six successful implant surgeries and she aims to get to the point where her team can perform that number in a single year.
Through a partnership with the Rotary Club of East Nassau and the support of Michele Rassin, Kim leads a programme that provides free hearing aids along with free fitting and follow-up services to kids whose parents could not afford these much-needed devices.
"My decision to go into audiology came as a result of my exposure to what was necessary here in The Bahamas," Kim shared.
She initially obtained a bachelor's degree in speech and hearing science in 1984 from Middle Tennassee State University and returned to work for the Ministry of Education as a speech therapist.
"I realised that there was no one testing (her patients) and so I started providing that service at Princess Margaret Hospital for ENT doctors, but I was limited by not being able to give parents the results and the advice they needed," she said.
"So I decided to go back and acquire all the knowledge I could so that I could be in a position to provide the kind of service our people needed in the area of audiology. It was a step in my life journey to be able to help those along the way who were not born with all their senses intact."
Kim enrolled in the doctoral programme at the University of Florida where she earned the title of Doctor of Audiology (AuD) in 2012, all while providing services through her private practice and government clinics. Some of the services included: annual hearing screenings for public and private schools and hospitals; diagnostic assessments for general population; annual screenings for EMS, airport personnel, armed forces (police and defence forces); hearing conservation programs for corporations and industries throughout The Bahamas; and hearing screenings for maritime students.
Soon after completing her doctorate, she was invited to join Med-El Electronics. Her mandate was to start up the first comprehensive otology and hearing implant clinic in The Bahamas for people with mild to profound hearing loss and congenital malformations which significantly impacts one's ability to communicate.
This local pioneer in medicine also collaborated with one of the top manufacturers of hearing aids in the United States to introduce the latest technology in hearing aids used in the iPod, iPad and iPhone. She holds the ASHA certificate of clinical competence which represents the highest level of excellence in the field of audiology (CCC-A). She is also a lifelong Fellow of the American Academy Audiology (AAA), which recognises her continuous dedication to learning and advancement. She is a member of several scientific and professional associations including the American Academy of Audiology, the Health Professional Council as well as the Bahamas Speech Hearing and Language Association.
In November 2013, Kim received the Paul Harris Fellow Award from the Rotary Club of East Nassau for dedicated community service. She was nominated as one of the Leading Ladies by The Red Dress Soiree for her untiring efforts in the field of hearing services. This year, she is set to receive an award from her high school, St Augustine's College for "Alumni Achievement in Medicine".
Tonight, SAC's Alumni association holds its general meeting at St Francis Cathedral to finalise the Lighthouse Awards and Gala, set for November 24, where Kim will receive her award along with 11 other honourees.
Her time at St Augustine's College, she says, is one that helped to shape and carve her destiny as a leader in medicine in The Bahamas. She graduated from SAC in 1980, taking with her the most outstanding athlete award. She was an all-around athlete, participating in basketball, softball, volleyball, track and field.
"I ran with Maryann Higgs and Oralee Fowler and we were an awesome team," she said.
"We could have been the golden girls but back then, track and field is not what it is today."
In any event, she was able to secure a scholarship to Middle Tennessee through the school, and continued in volleyball, which she played in college and for the national team at home.
The friendships she made at SAC have also been a bedrock in life, as there is a group of about ten of who have remained close and plan to do so "until death". She is also thankful for the support of other friends and family who have pushed her to achieve all she has.
Kim attributes much of her success to her "pillars of strength" in life – her parents. She was born in Nassau to Joseph and Sheila Johnson.
Her mother, who once worked as a switchboard operator, retired early to become a homemaker and put all her efforts into raising Kim and her siblings. She did an "excellent job" and it is because of this focus, Kim believes, that she was able to continue in her academic pursuits even through "difficult times".
Her father, who worked at Premier Imports for 50 years, was instrumental in the success of her establishment of hearLife, pushing her from the conception through the planning to the opening of its doors five years later.
Kim, a divorced mother-of-three, is putting that same kind of energy into her own children. Her son Jamaal is a certified boat captain, working in the United States as a third mate on an oil tanker. Her daughters are both in university - Nia is in a pre-med programme with aspirations of becoming a surgeon, while Taja is studying engineering.
"When you have a passion for something, for me its about service and providing the best care you can," Kim said.
"You don't look for accolades, but persons realise when you go above and beyond to make sure their quality of life is the best it can be while they are here on earth."