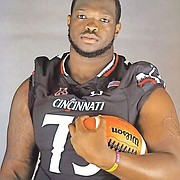 By RENALDO DORSETT
Tribune Sports Reporter
rdorsett@tribunemedia.net
CHRIS Ferguson has stepped into the starting role on the offensive line for the Cincinnati Bearcats and has been one of the driving forces behind the team's dramatic improvement from a season ago.
The Bearcats remained undefeated on the season and improved to 4-0 with a 34-24 come from behind win over the Ohio University Bobcats.
Cincinnati has already matched its win total from last year's 4-8 season and their best start to a season since 2012. Ferguson and the offensive line led the Bearcats to 150 rushing yards on the day and has topped the 150-yard mark in each of the season's first four games. They have totalled 14 rushing touchdowns on the year, surpassing its number of rushing scores from each of the past two seasons (11 in 2017, eight in 2016). Ferguson and the offensive line also did not allow a single sack Saturday afternoon.
Bearcats running back Michael Warren III rushed for 124 yards and two touchdowns while quarterback Desmond Ridder threw for 274 yards and two touchdowns and also rushed for a touchdown.
"I can't do it by myself," Warren said. "The O-line did a great job again today."
Trailing 21-0 with 5:45 left in the first half, UC scored 34 points to mount its largest comeback since trailing Pittsburgh 31-10 (also 21 points) with 1:26 left in the second quarter and winning 45-44. UC's game-clinching 92-yard drive was its longest of the season in terms of yardage.
The Bearcats open their American Athletic Conference slate by travelling to UConn on September 29. The game is scheduled to begin at 3:30pm and air on CBS Sports Network.