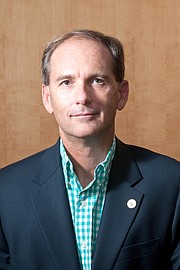 By NEIL HARTNELL
Tribune Business Editor
nhartnell@tribunemedia.net
The Fiscal Responsibility Bill is "an absolute game changer" for good governance if properly enforced and complied with by the public sector, a leading reform campaigner said yesterday.
Robert Myers, the Organisation for Responsible Governance's (ORG) principal, told Tribune Business that the bill's provisions were critical to the Government breaking "bad habits of the past" that had resulted in The Bahamas' current "fiscal crisis".
Speaking as MPs debated the bill in the House of Assembly, Mr Myers warned that the legislation was "only as good" as its enforcement. He acknowledged that the Fiscal Responsibility Bill faced the same risks as other laws, which had been passed by Parliament but either never properly implemented or enforced selectively.
The ORG chief, though, said The Bahamas' precarious fiscal position of a near-$8bn national debt and $300m-plus annual deficits would help to concentrate minds and ensure compliance with the Bill's provisions given that time was running out to change course.
"That is music to my ears," Mr Myers replied, when informed by Tribune Business that MPs were debating the Bill during its second House reading. "We just hope they keep as much control and create as much accountability as possible.
"This is massive. It's a game changer, an absolute game changer. It's the beginning of more accountability to come. You start putting in fiscal rules, start enforcing those rules, and you start changing the culture and attitudes start to change. We've got to move beyond our bad habits of the past."
The Minnis administration, realising it has to fulfill its side of the fiscal consolidation/austerity bargain following the 12 percent VAT hike imposed in the 2018-2019 Budget, views the Fiscal Responsibility Bill as central to improving governance and discipline in how the Bahamian people's money is managed.
The legislation is intended to transform the Government's fiscal discipline by locking it into specific deficit targets and longer-term debt ratios, while boosting transparency and accountability in the management of its financial affairs through enhanced public scrutiny. The latter role will be played by a newly-created Fiscal Responsibility Council, comprised of accounting, legal, financial analyst and business expertise from the private sector.
Mr Myers yesterday praised the Government for following through on previous pledges of fiscal responsibility, but he added that it now needed to follow through and "make it happen" once the legislation is passed by Parliament and given effect.
"Laws are only as good as their enforcement. That's a big part of it," he conceded. "There's no point in writing laws unless you're going to police and enforce them, and you have to do so equitably. That's a big concern given that we have an inclination be somewhat lawless in certain sectors.
"We've got to make sure the public sector adheres to these regulations, and is trained also to meet and follow them. That's going to take some effort."
Public sector buy-in, especially at the senior and management levels in the civil service, is critical if The Bahamas is to halt, then reverse, the growth in its national debt and ultimately eliminate annual fiscal deficits.
Civil servants under the Westminster model are typically resistant to budget cuts and intensive fiscal discipline, which they see as undermining their authority, but Mr Myers yesterday expressed doubts this would happen here due to the gravity of The Bahamas' fiscal situation.
"The biggest club or driver of this is the stark reality of a growing fiscal crisis," he told Tribune Business. "I don't think that's going to be the case as there is no more headroom. We can't ignore it any more.
"If we ignore it we are going to run into the IMF, just like Barbados, Jamaica, Haiti and countless Caribbean countries have done. ORG's advice has always been that we do it [fiscal consolidation' while we still can; while we're in the driver's seat.
"If we keep slipping this becomes a bigger and bigger problem that's going to weigh on the economic situation of the country, and taxes are going to increase if we don't correct this problem. Government spending is out of control and needs to be corrected. We need laws that govern and make the public sector, and politicians, as accountable as citizens."
The Fiscal Responsibility Bill's key targets require the Government to slash the fiscal deficit to 0.5 per cent from 2020-2021 onwards, cutting it from a sum equivalent to 5.8 per cent of GDP in the 2016-2017 Budget year. This means reducing it from near $700 million to around $54 million over a four-year period.
The Bill's 'first schedule' sets out a 'glide path' or 'road map' for achieving this, acknowledging - as the IMF stated - that "significant fiscal adjustments" are needed over the next two Budget years to hit this objective.
To enable the public sector and wider Bahamian economy "to achieve the fiscal objective in an orderly manner", and avoid unnecessary shocks, the Bill calls for 2018-2019 and 2019-2020 deficits that "shall not exceed" 1.8 per cent and 1 per cent of GDP, respectively. The first target is what the Government is going for this coming fiscal year, aided by the VAT hike.
The Bill allows for a "compliance margin" equivalent to 0.5 percent of GDP in relation to the deficit target, which means that the Government will not have to produce a "fiscal adjustment plan" if its annual 'red ink' is within this figure.
The Bill also sets out a "long-term" target of reducing the Government's direct debt-to-GDP ratio from the current 58 per cent to "no more than 50 per cent". The year by which this target is to be achieved has to be set out in the Government's 'fiscal strategy report', which must be submitted to Parliament no later than the third week of November each year.
Government spending growth rates are also not to exceed the growth of nominal GDP.