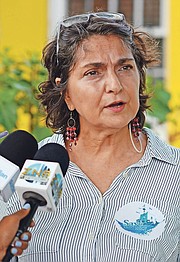 By NEIL HARTNELL
Tribune Business Editor
nhartnell@tribunemedia.net
An environmental activist yesterday said she had "not bought the fairytale" on Disney's plans for Lighthouse Point, and urged it to "compromise" by using an existing cruise port.
Sam Duncombe, reEarth's president, told Tribune Business that using the existing cruise dock at Princess Cay was "the obvious solution" to the controversy surrounding Disney's plans to purchase the 700-acre site at South Eleuthera's tip and convert "20 percent" into a beach break destination for its guests.
The outspoken activist suggested that Disney could secure its "own space" at Princess Cay, also located in the South Eleuthera area, and then organise tours to take its passengers to Lighthouse Point.
It is unclear whether Disney would be able to use Princess Cay, given that the property belongs to a rival cruise line, or whether there would be sufficient space to accommodate the 2,700-4,000 passengers that typically use its vessels.
But, responding to Disney Cruise Line's media offensive over its Lighthouse Point plans, Mrs Duncombe said she had "absolutely not" altered her views on the project despite its pledges to maintain "full access" to the property for Bahamians, together with 150 permanent jobs and opportunities for Bahamian entrepreneurs.
She, like the One Eleuthera Foundation's Shaun Ingraham (see other article on Page 1B), argued that Disney would be unable to fulfill its public access promises because of global port security regulations it has to comply with following the September 11 terror attacks.
And the reEarth president said The Bahamas needed no more private cruise destinations on the basis that this was a model where the majority of the economic benefits were retained by the lines themselves rather than Bahamian businesses and employees.
"I've not bought the fairytale," Mrs Duncombe told Tribune Business. "I've been in this long enough to know developers will say anything to get in. They'll [Disney] say they have to block off access because after September 11 all these security restrictions were implemented, and they have to follow the rules."
Disney, in a presentation on its project, acknowledged that continued public access to Lighthouse Point needed to be balanced with the International Ship and Port Security (ISPS) regulations, bit did not see this as an insurmountable obstacle. Yet Mrs Duncombe reiterated: "I don't see how Disney bypasses these security issues with people willy nilly accessing this area.
"I do not believe we're going to be let in. They'll do it for a couple of months, then close the place and lock us out." The reEarth president said such security restrictions apply at Princess Cay, where only staff and passengers are allowed in.
She argued that Disney was trying to exploit "a community that is economically depressed" with promises to create 150 permanent jobs, and another 100 in the construction phase, knowing that south Eleuthera was desperate for job-creating economic activity.
"We need to start moving away from private cruise ports. They don't benefit the local economy; they benefit the cruise companies," Mrs Duncombe told Tribune Business. "Disney knows that.
"I think the cruise industry in and of itself is way out of whack. Seventy-five percent of our arrivals are cruise passengers, but they only contribute 11 percent of the tourist spending. I think the tail is wagging the dog.
"They [Disney] know the community in south Eleuthera has been screwed by the Government for 60 years with the same development model that has crashed and burned. That's left people frustrated, and I get why some people in south Eleuthera want this cruise port, but just because Disney tells them 150 jobs are available doesn't mean all the jobs go to Bahamians."
Disney's plans for Lighthouse Point do not seemingly follow the model of a private, exclusive cruise port destination. The cruise line yesterday reiterated that if the project was approved calls to the Bahamas would "nearly double", inclusive of a 40 percent increase in calls to Nassau.
It also said it was not suggesting the Government bore responsibility for the "information vacuum" that developed around the project, adding that it was "trying to be respectful of the Government process for this type of investment, and to Bahamians more generally, and it was important to talk with the people of Eleuthera first as part of that process before talking about this project more broadly from a public perspective".
Disney said: "Those conversations in Eleuthera and with Government have enabled us to further refine our plan from where it started so that we could get to the point of submitting a formal proposal."
Mrs Duncombe, though, told Tribune Business: "We can't sacrifice this crown jewel in Eleuthera so that Disney makes so much money. The compromise is very obvious to anybody.
"They can dock at Princess Cay and create their own space. Why would we give up such an incredibly special place so that a handful of people can enjoy it? I would like to say that if Disney is truly concerned about sustainable environmental practices they would dock at Princess Cay in south Eleuthera, where there is a dock that already exists and the area is already impacted.
"Why go somewhere pristine and screw it up? There is a Plan B. Dock at Princess Cay or go home. That's kind of it."