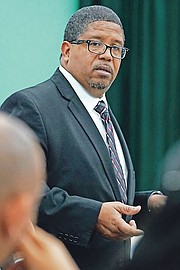 By DENISE MAYCOCK
Tribune Freeport Reporter
dmaycock@tribunemedia.net
DEPUTY Prime Minister Peter Turnquest this week opened the Grand Bahama Cooperative Credit Union's newest branch office in the Port Lucaya Marketplace.
He said the company's decision to open a second branch signals not only an expansion for the company, but confidence in the Grand Bahama economy.
Mr Turnquest noted that the island's economy is very important to the country, and added that his government is committed to the economic recovery of Grand Bahama.
"Our government remains committed to creating an environment to have Grand Bahama fully rebound, he told persons attending the opening Wednesday evening. This island's economy is critical to our national growth."
However, Mr Turnquest said Grand Bahama will not automatically move, unless "people with ideas, dreams and thorough plans, and a commitment to work with their resources make things move".
Mr Turnquest, who also recently opened the Freeport Insurance Agents and Brokers new building, commended GBCCU for taking steps to expand its business.
The company employs 14 Bahamians, and has 2,800 client members. Three employees will be located at the Port Lucaya branch.
The finance minister noted that GBCCU's bond free status, now allows them to attract clients from throughout The Bahamas.
"Bond free status also eliminates the restriction of what professions and the type of workers you can service. Indeed, this organisation has done a remarkable job. And your board, management and staff members deserve to be commended," he said.
"Your move distinguishes this institution as a leader of the pack," Mr Turnquest said. "This move to Port Lucaya Marketplace is a noted expansion. It is no doubt, a calculated and deliberate decision. Again, it demonstrates confidence in the Grand Bahama economy."
The institution has maintained steady growth over the years, according to Mr Turnquest. He noted that GBCCU has come a long way since 1980 when it first opened in the Kipling Building, and then years later to its new building in the Four Way Co-op Plaza.
"The Grand Bahama Co-operative Credit Union has made extraordinary leaps. The stable achievements owe credit to visionary leadership, both past and present, a committed, knowledgeable and dedicated staff, excellent products and services and a growing client membership of residents who believe in and trust this financial institution," he said.
The finance minister talked about the need for Bahamians to develop financial skills and habits that will help maximise their earnings.
He said: "One of the most important choices we can make with our money is finding the right institution to invest it in. The various financial institutions available offer different opportunities for the consumers. Choosing the right one is critical in how we position ourselves financially throughout our lifetime."
One good thing about the credit unions, he said, is that they were created to benefit people.
"They are non-profit organisations that focus on the financial success of their members, rather than profits. This means that the money earned is directly invested back into the membership…. Talk about getting more for your money," he stressed.
Mr Turnquest also said the credit union offers higher interest on savings and low rates on loans.
"While spending is good for the economy overall, I think we can all agree that during this time, the greatest demand on our spending should be to employ disciplined budgeting and prioritising our medium and long term financial decision making," he added.
"Yes, we all want nice things, and the government is working and constructing new ideas to ensure that the people of Grand Bahama are in a position to satisfy yourselves with your needs, but until then it is imperative that you practice good stewardship with your finances," Mr Turnquest said.
He encouraged Bahamians to take advantage of the credit unions to save. "The money deducted out of your salaries are yours, and there are experts here to guide you through financial management if need be," he said.
The credit union, he said, offers the same consumer services as a bank; savings accounts, debit cards, home and auto loans, and so on.
"When you open an account with a credit union, you are an equal owner, rather than a customer. You will have a say in the decisions of the union, and how those decisions can impact you and your money.
"I am proud to say that Grand Bahama is seeing a steady increase in development. This is one of a few new business additions over the past few months that are certainly adding to our economic growth organically, and we're expecting more in the coming years," said the deputy prime minister.