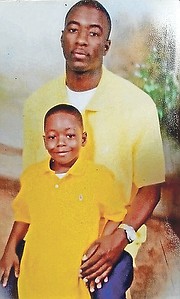 By JEFFARAH GIBSON
Tribune Features Writer
jgibson@tribunemedia.net
WITH the majority of single-parent households in the Bahamas being maintained by mothers, single fathers like Rasheed Brown, Sr, are a rare breed.
The single father of one recently helped bring together a group of like-minded individuals to form a new foundation aimed at supporting single-parent homes.
All of the group's members were raised by single parents and have experienced first-hand the challenges connected with such an upbringing. Because of their experiences, they decided to create the SPEAK (Single Parents Enhancing, Attaining and Knowing) Foundation in February of this year.
The SPEAK Foundation will be holding it's introductory event on April 26 at the Fox Hill Community Centre," said founder Kenneth Symonette.
"The ultimate goal of the SPEAK Foundation is to provide an avenue for assistance to all single parents who are in need in the Bahamas. We know this is a heavy task, but feel if we continue to work together and keep God first, we can succeed," he said.
Rasheed is an associate founder of SPEAK and father to an 11-year-old son, Rasheed Brown, Jr. He said the challenges he has faced led him to join SPEAK and its efforts.
Rasheed was with his son's mother for about 10 years before their relationship ended. While they currently share joint custody of their son, who is nicknamed "RJ", the boy lives with his dad.
"The relationship had its problems like all relationships do, however, we couldn't overcome them so that led to us splitting and having to share custody of our son. I have taken a major role in his life by becoming his primary guardian. Although his mother is in his life, my son currently lives with me," he said.
The transition to being RJ's primary guardian wasn't an easy one and required many adjustments – physically, financially and emotionally.
"There were many things that I had to change since he began living with me. I had to give up certain privileges such as those late-night outings, spending money on clothes or new tennis (shoes), and even my eating habits have changed. This is all because now I had to conform to a new way of life that involves taking care of my son's needs first, before any of mine can be met," he said.
Rasheed is now experiencing what so many Bahamian women are living through on a daily basis. It is estimated that more than 60 percent of children in the country are born out of wedlock and that the percentage of households headed my single women could be even higher.
"The challenge financially of raising my son has been a trying one," Rasheed admitted. "His mother also helps with these aspects of his life, however, having my sole income to take care of both of us is a major challenge within itself. Even though we both share financial responsibilities, I had to still pick up a second job just to cover those essential needs such as school fees, clothing, books, et cetera. I now know what it feels like to cut costs and spend on things that we both need rather than what is wanted. I have made it my mission to make sure I do everything I can to give RJ the life he deserves."
The situation has also been emotionally taxing for Rasheed, who said there will always be a divide between his life and RJ's mother's life.
"In any household splitting a child between homes is always a difficult task and I try my absolute best to make sure RJ remains comfortable in his environments," he said.
Rasheed's experience is one that many parents, especially mothers, are faced with. It is because of this reason he hopes the SPEAK Foundation can accomplish what it has set out to do.
"My father was never a part of my life and because of this I knew that I never wanted RJ to live his life thinking that I would not be here for him one day. Raising a son in this world without having a strong male figure surely is one of the reasons we have all of these acts of rage on the streets almost every day," he said.
"To absentee fathers, I encourage you to get active in your child's life. It can very well be a deciding factor in who they turn out to be in life. Too many single mothers are out there 'busting their hip' just to make ends meet for themselves and their children, and some ultimately have to resort to extreme measures to provide.
"To single mothers out there, continue to be encouraged. I grew up with my mother being the only parent I knew and I saw her strength through all of her struggles. Children may not remember the tennis and the fancy clothes, but they remember love. I remember my mother loving me and my sisters unconditionally."