By NEIL HARTNELL
Tribune Business Editor
nhartnell@tribunemedia.net
The Bahamas must take a "holistic" approach that "marries" the Fintech and digital asset space with its existing financial services industry, a local risk specialist is urging.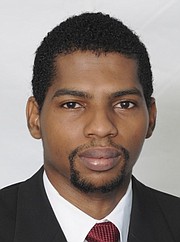 Emmanuel Komolafe, pictured, a Bahamas-based governance and compliance practitioner, told Tribune Business it was too early to determine whether crypto currency and other digital assets could be a "game changer" for this nation given that the sector continued to rapidly evolve.
Warning against viewing it as "a silver bullet" for repositioning the Bahamian financial services industry and regaining its competitive advantage, Mr Komolafe suggested more thought needed to be given about how this nation could attract reputable industry players to locate here.
Backing the Government's move to regulate the industry, he added that The Bahamas was "not the first move to market" in the space given that rival international financial centres (IFCs) such as Bermuda had already passed similar legislation.
Still, Mr Komolafe said The Bahamas cannot afford to ignore Fintech and digital assets - and the need to properly supervise and regulate them - given that it needed to keep pace with global trends otherwise face being left behind.
The Government last week released the Digital Assets and Registered Exchanges Bill 2019, the so-called DARE Bill, as its answer to the need for regulation, and Mr Komolafe said: "We're not the first to market; we don't have the first mover advantage.
"This is a space that is evolving, and several jurisdictions are looking at similar legislation to regulate it. More recently, Bermuda passed the Digital Assets Business Act last year. Several others I know, including the Cayman Islands, are looking at it. It seems to be a trend that several IFCs are looking at it."
Mr Komolafe warned The Bahamas to keep an eye on the Financial Action Task Force (FATF), the global anti-money laundering and terror financing standard-setter, which is already monitoring this nation as it seeks to correct perceived regulatory weaknesses.
He added that the FATF has already provided some commentary on the digital asset space, and is expected to provide more details on what it expects in terms of Know Your Customer (KYC) due diligence come summer 2019, meaning The Bahamas will have to ensure its regulatory framework complies with this.
"I think it's definitely something The Bahamas should be looking at," Mr Komolafe told Tribune Business of fintech and crypto. "That being said, it has to fit properly with our existing financial services industry and that's very important.
"We're at a time with Fintech, crypto and Regtech where marrying technology with existing financial services products is definitely a trend. We have to look at this from a more holistic viewpoint. It could be a way to say we want to reposition the financial services industry but how does it fit in exactly?
"It has to be compliant, not looked at in isolation... Our regulations have to be stringent enough. This all goes back to the reputation and integrity of the jurisdiction. It has to be married with with financial services going forward and is definitely not a silver bullet. It is an evolving space and our competition are looking at this," he continued.
"Could it be a game changer? I don't know. We also have to consider this in the sense of the ease and cost of doing business. How would we attract fintech and crypto entities to our jurisdiction? What would gave us a competitive edge to attract them? Do we have the infrastructure in place? The whole nine yards?"
Mr Komolafe added that using blockchain technology in conjunction with digital assets could provide "greater transparency and accountability once properly deployed" because it would prevent beneficial owners and transaction instigators from concealing their identities.
The so-called DARE Bill 2019, an acronym of its first letters, is currently being studied by the private sector, both locally and internationally, over an eight-week consultation period.
Christina Rolle, the Securities Commission's executive director, gave an insight into the potential size of the market during a presentation, entitled Fintech: Balancing innovation and regulation, to the recent International Business & Finance Summit (IBFS) in Bimini.
She noted that some 1,257 initial coin offerings (ICOs) took place in 2018, raising a combined $7.852bn. More than 100 crypto exchanges are present worldwide, with the leaders conducting billions of dollars worth of trading activity.
The DARE Bill's main goal, according to the Securities Commission, is to regulate the issuance, sale and trading of digital/crypto assets in or from The Bahamas. Initial token offerings will be covered by the new regime, while sponsors and intermediaries promoting such issues must be registered with the regulator.
Digital asset businesses, including crypto exchanges, will also fall under its oversight, along with custodians and wallet services providers. All participants in the sector will be required to implement stringent data protection measures and adhere to the same anti-money laundering and counter terror financing regulation imposed on traditional "bricks and mortar" operators