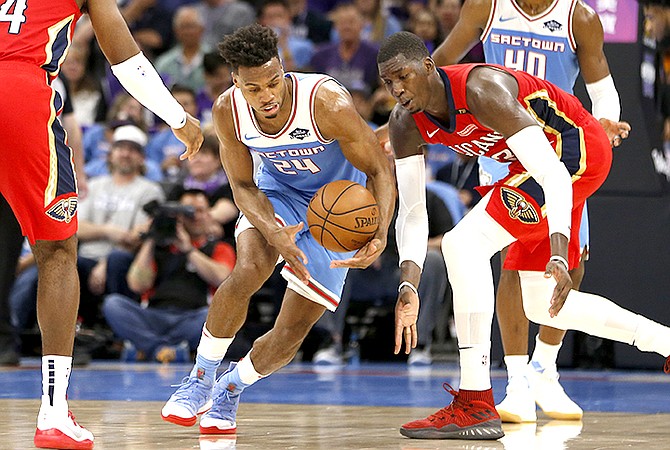 By RENALDO DORSETT
Tribune Sports Reporter
rdorsett@tribunemedia.net
Buddy Hield continues his year of milestones and has now become one of the NBA's most proficient three point shooters through his first three seasons in the league.
After last night's 133-129 loss to the New Orleans Pelicans, Hield is now tied with Damian Lillard of the Portland Trailblazers with 599 three point field goals.
The Kings will travel to face the Trailblazers in their regular season finale, Wednesday at 10:30pm local time.
Hield finished with 12 points but shot just 5-15 from the field and 2-10 from beyond the arch.
He tied the mark against the team that originally drafted him No 6 overall in 2016, but traded him to Sacramento at the midseason mark of his rookie season.
Hield also set the Kings' single-season three-point field goals record this season when he surpassed Peja Stojakovic's mark of 240.
He had 324 three point makes through his first two seasons, but with the Kings new and improved high paced offense, the third year guard has experienced an increase in attempts while shooting the same high percentage as in previous seasons.
"I'm blessed, man," Hield said to NBC Sports in the week leading up as he closed in on the record "I'm in this situation. Thank God for putting me here, you know, a kid from the Bahamas. I never thought in a million years that I'd be doing this."
Hield is averaging 20.9 points on 46 percent from the floor and 43 percent from three point range. He also averages 5.1 rebounds and 2.5 assists per game in just over 32 minutes.
"It all started off starting the season strong and embracing my role. I know what I'm capable of doing and I just had to take advantage of it. My mom always said when you get an opportunity take advantage of it because they don't come around too often. When you get confidence you just keep going and I'm a guy that drives off confidence," Hield said, "There may have been a time I wasn't getting the minutes I wanted, but I knew I was one of the best shooters in the league. I worked for it, I showed them I can do it."