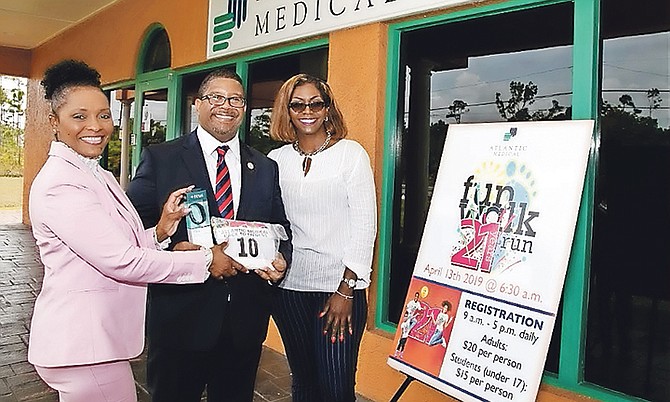 It's almost time to "Party With Your Feet", as organisers prepare for the 21st annual Atlantic Medical Fun Run/Walk to be held in both New Providence and Freeport this Saturday.
One person who definitely on board with the event is Deputy Prime Minister K Peter Turnquest, who this week received fun/walk kit in anticipating of this weekend's race.
In Freeport, the event kicks off at 6.30am at the Jasmine Corporate Centre, East Sunrise Highway, home of the offices of Atlantic Medical Company. In Nassau, the walk will begin at Montagu Beach. Event participation requires a $25 donation for adults and $15 for children 12 and under.
Each participant will receive a T-shirt and a gift pack, and will be eligible to win additional prizes.
Proceeds of the event will aid the Cancer Society of the Bahamas and the Bahamas Diabetic Association. Because of its contributions over the decades, donating upward of $500,000 since inception of the run/walk, this year Atlantic Medical will be awarded the Life Achievement Award by the Cancer Society of the Bahamas at the annual Cancer Ball.