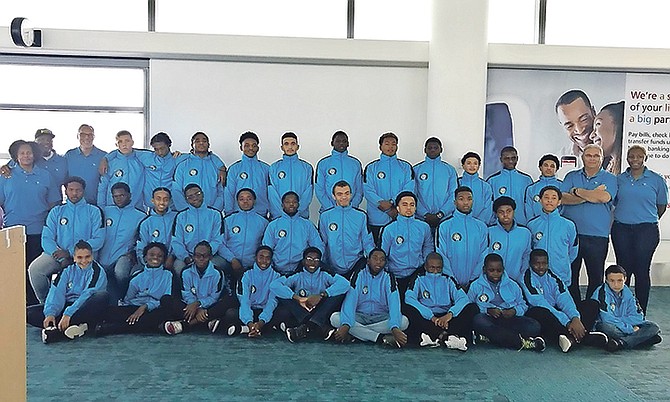 By RENALDO DORSETT
Tribune Sports Reporter
rdorsett@tribunemedia.net
Team Bahamas looks to continue its trend of water polo success and repeat last year's dominant performance at the Carifta Water Polo Championships.
This 2019 tournament will be hosted at the Aquatic Centre in St Michael, Barbados, beginning today and will run through April 15.
The Bahamas will field a trio of teams: U19 Boys - Adonis Sasso, Loron Bain, Johnathon Demeritte, Adrian Burrows, Thor Sasso, Kurdero Major, Kurdaz Major, Damian Gomez, Jahkai Gray, Gabriel Sastre;
U16 Male - Alexander Turnquest, Nicholas Wallace-Whitfield, Mataeo Ferguson, Aidan Johnson, Jelani Grant, Gabriel Encinar, Thomas Illing, Oliver Roberts, Jayden Fernander, Jayden Seymour, Skyler Dean, Akeil Smith, Dominic Beneby;
U14 Co-ed - Dominic Demeritte, Logan Carey, Kaitlyn Williams, Justin Miller, Dereo Maycock, Christian Deveaux, Ashley Darville, Seth Roberts, Wesley Ingraham, Matthew Thompson, Joshua Gibson, Remington Minnis and Tonny Simon.
At the 2018 CARIFTA Championships in Jamaica, team Bahamas achieved its top regional water polo feat to date with a trio of gold medals.
The U14 team began championship day with a dominant 16-2 win over Jamaica.
Dominic Beneby led The Bahamas offensively with five goals scored. Dominic Demeritte scored four, Oliver Roberts scored three, Atuwan McKenzie added two while Remington Minnins and Akeil Smith each added one goal apiece. The full roster of the
U14 team also included Jayden Fernander, Skyler Dean, Jayden Seymour, Madisson Deveaux, Kaitlyn Williams, Wesley Ingraham and Joshua Gibson. They defeated Jamaica in the first game of the tournament 18-5 and followed with their most lopsided win, 21-3 over Curacao.
The U16 Boys successfully defended their Carifta title with a 17-3 win over Jamaica. Gabriel Sastre outscored Jamaica on his own with a game high six goals to lead the list of seven Bahamian scorers. Gabriel Encinar and Thomas Illing each scored three goals, Nicholas Wallace-Whitfield scored two while Damian Gomez, Jelani Grant and Alex Turnquest each scored a single goal. Team Bahamas also included Thor Sasso, Jahkai Gray, Liam Mills, Mataeo Ferguson and Aidan Johnson.
In game one, The Bahamas opened the competition with a 20-2 win over Barbados. They also defeated Jamaica 12-1 and earned a trip to the final with a 22-5 win over Curacao.
The U19 Boys team capped the competition and exacted revenge on Jamaica for a 2017 loss with a 13-10 win. Sastre and Saequan Miller both scored four goals, Wallace-Whitfield scored three, while Loron Bain and Turnquest also scored goals. Other team members included Joshua Knowles, Adonis Sasso, Sean Knowles, Johnathon Demeritte, Adrian Burrows, Michael Moore, Kurdero Major and Kurdaz Major. Day one featured a 19-12 win over Barbados but the team suffered a 17-9 loss to Jamaica in game two. They advanced to the title game with a 12-11 win over Barbados to set the stage for the rematch against Jamaica.
The 36-member team will be coached by Laszlo Borbely assisted by Anthony Knowles and Chris Illing. Brenna Turnquest is the team manager.
"I was very confident headed into the competition into Jamaica. We expected to do well, but I did not honestly expect us to win gold in all three divisions.
"We knew we were strongest in the U16, we were the defending champions there so those guys came in with a lot of confidence and we had also trained rigorously in preparation. The U14 was also expected to be very strong but we knew the U19 division would present the greatest challenge with Jamaica back as the defending champions and returning most of their players from the year before," Borbely said.
"After that initial loss in the opening rounds, knowing we would face Jamaica again in the championship game the guys knew that it would be a tough matchup. It was a close finish in the semifinal, but the way we finished against Barbados gave us so much confidence moving forward. Winning the three gold medals is an incredible milestone for water polo in TBahamas.
"Every year, our results have continued to improve and now to achieve this, it is something people could not think was possible for Bahamas water polo just a few years ago."
The bid to repeat will be a difficult task with a relatively new slate of players in the younger age groups.
"It is hard to compare this squad with the other one. Last year was our strongest year ever, we won three gold medals. Some of the players got too old or they went to college and I had to bring in new players," Borbely said, "They do not have experience in Carifta surroundings and the competition level but we trained a lot. I try to use the older more experienced players to pass over the knowledge to the younger players."