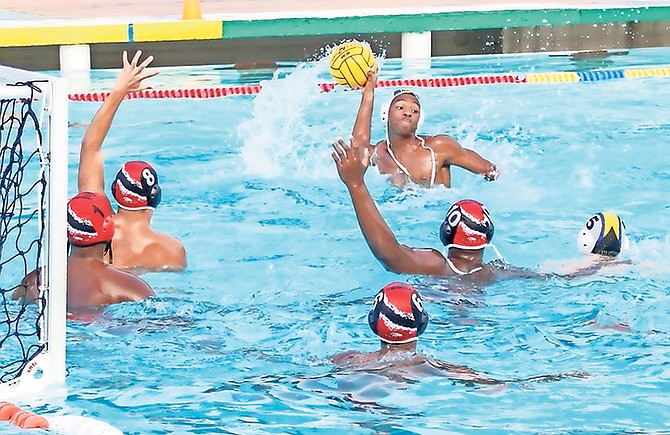 By RENALDO DORSETT
Tribune Sports Reporter
rdorsett@tribunemedia.net
TEAM Bahamas continues to establish its position as a regional powerhouse in CARIFTA water polo and captured three medals at the event for the second consecutive year.
The Bahamas took gold in the under-16 boys, silver in the u-14 co-ed, and bronze in the u-19 boys as the tournament concluded yesterday at the Aquatic Centre in St Michael, Barbados.
The roster for the Bahamas' trio of teams included:
U-19 Boys - Adonis Sasso, Loron Bain, Johnathon Demeritte, Adrian Burrows, Thor Sasso, Kurdero Major, Kurdaz Major, Damian Gomez, Jahkai Gray, Gabriel Sastre; U16 Boys - Alexander Turnquest, Nicholas Wallace-Whitfield, Mataeo Ferguson, Aidan Johnson, Jelani Grant, Gabriel Encinar, Thomas Illing, Oliver Roberts, Jayden Fernander, Jayden Seymour, Skyler Dean, Akeil Smith, Dominic Beneby; U14 COED - Dominic Demeritte, Logan Carey, Kaitlyn Williams, Justin Miller, Dereo Maycock, Christian Deveaux, Ashley Darville, Seth Roberts, Wesley Ingraham, Matthew Thompson, Joshua Gibson, Remington Minnis and Tonny Simon.
The U16 team took gold with a 12-11 win over Trinidad and Tobago in the final. They began the tournament in dominant fashion with a 24-1 win over Curacao. They continued with an 11-7 win over Trinidad and Tobago and earned a place in the gold medal match with a 17-5 win over Barbados.
The U14 were defeated by Trinidad and Tobago in the gold medal match, 24-15. They began play with a 24-2 win over Bonaire on opening day, followed by a 12-6 loss to Trinidad and Tobago. Team Bahamas was back in the win column in game three with a 13-4 win over Barbados. They advanced to the final with a 9-1 win over Curacao.
The U19 team team claimed the Bahamas' first medal of the games with a 15-10 win over Bonaire. They opened round-robin play with a 16-7 loss to Trinidad and Tobago but rebounded to win 19-8 over Bonaire in game two. With a trip to the gold medal match on the line, the Bahamas suffered a 13-12 loss to Barbados and was relegated to play for the bronze medal.
The 36 member team was coached my Laszlo Borbely, assisted by Anthony Knowles and Chris Illing. Brenna Turnquest was the team manager.
At the 2018 CARIFTA Championships in Jamaica, team Bahamas achieved its top regional water polo feat to date with a trio of gold medals.