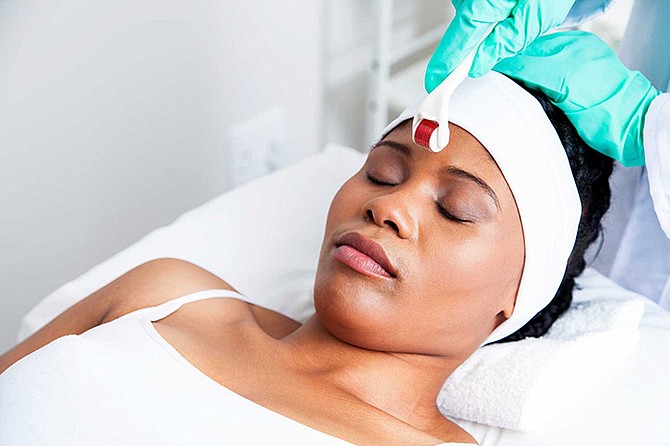 By ALESHA CADET
Tribune Features Reporter
acadet@tribunemedia.net
It may seem like something out of a horror movie: hundreds of tiny needles piercing your skin and leaving you with a bloody face. But many beauty experts swear by the technique of microneedling, claiming it immediately makes your skin look younger, helps with scars and acne, and reverses sun damage and pigmentation.
Some dermatologists are even calling it the greatest thing to happen to skin care in decades.
Microneedling – also known as collagen induction therapy – is a non-invasive procedure that involves the use of fine needles to create hundreds of tiny, invisible puncture wounds in the top layer of skin.
According to a study carried out in 2008 study, skin treated with four sessions spaced one month apart produced up to a 400 percent increase in collagen and elastin some six months after the treatment was completed.
"The micro-injuries you create stimulates the body's natural wound healing processes, resulting in cell turnover and increased collagen and elastin production, therefore reversing as well as preventing signs of aging," said board-certified dermatologist and RealSelf contributor Dr Sejal Shah in an interview with Reader's Digest.
Here in the Bahamas, the Bella Mente Spa in Nassau is jumping on the mirconeedling trend and introduced the technique to its customers for the first time last week.
The spa is using the most popular device, the dermaroller, which is made up of micro-fine needles that range in diameter from 0.5 and 2.5 millimetres. It is mostly used on the face to treat scars, smooth out wrinkles and minimise pores.
To help introduce the procedure to its customers, a skin health specialist in from Florida, Mercy Quinonez, was on hand to answer any questions that arose.
Nikolette Eldon of Pulse Marketing told Tribune Health that Bella Mente has always aimed to be at the cutting edge of technology.
She said they were the first to introduce Lipo Light body contouring to the Bahamas, and now also the first to bring microneedling to these shores.
Ms Eldon said the treatment varies depending on the needs of the client. A minimum of six treatments is required to see real benefits.
"Before getting started, your therapist will use a topical anaesthetic to reduce the chances of pain. This is done about an hour before your treatment. The actual microneedling process takes approximately 30 minutes. Your therapist will then apply a serum or calming treatment. In total, you can expect to be at the spa for at least two hours," she explained.
After the procedure, people may notice a bit of skin irritation and redness within the first few days. However, this is a natural response to the small "injuries" made by the needles in your skin.
"Microneedling isn't invasive like plastic surgery, so the recovery time is minimal. Results are almost immediate as guests experience tightening, lifting and brightening. A post microneedling kit is required. Also, after microneedling your skin works fairly quickly to rejuvenate new tissue. In theory, you should see results within a couple of weeks. To maintain the results of your treatment you'll need multiple sessions and perhaps other complementing treatments. Your therapist will advise you on the best plan of action based on your individual goals," said Ms Eldon.
Ideal candidates for this procedure are those who are in good health and have certain skin concerns that haven't responded to home treatments or other types of dermatologic procedures, including peels.