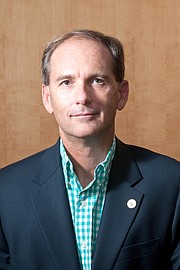 By NEIL HARTNELL
Tribune Business Editor
nhartnell@tribunemedia.net
A governance reformer has predicted it will take between five to ten years to eliminate "the social welfare system" that much of the public sector has become.
Robert Myers, the Organisation for Responsible Governance's (ORG) principal, told Tribune Business that multiple ministries, departments and agencies were bloated and over-staffed because previous administrations had used public sector hirings to solve both their employment and political issues.
He called for a "vision and plan" that would produce sufficient GDP growth to enable the Government to shift excess public workers to private sector employment, and warned: "We can't turn around and fire 20 percent of the public service."
Speaking after the International Monetary Fund (IMF) last week called for the Government to "further rein in recurrent spending", Mr Myers said: "We've got to get some of the social welfare in the public sector out of the system.
"That over-employment is the Government's social welfare because they've been unable to stimulate growth in the economy. We have many of these ministries and state-owned enterprises (SOEs) that are over-staffed. It's become a social welfare system and we're not getting any more efficiency out of these SOEs, ministries and agencies. They're still over-staffed and under-performing."
Camille Johnson, the Cabinet Secretary and government's top official, last year told an Inter-American Development Bank (IDB) report that the Bahamian civil service was "overstaffed by as much as 40 percent".
However, Brensil Rolle, minister of the public service, recently confirmed that a large number of the 9,000 people that the Christie administration was criticised for hiring had been re-engaged by the public sector.
While arguing that the public sector was "still over-staffed and under-performing", Mr Myers said the Government could not simply engage in mass lay-offs because of the hardship it would cause to individuals and their families, as well as the impact on the wider economy and Bahamian society.
"It's not that we go and lay-off hundreds of people in government right now," he explained. "We've got to have a vision and a plan to shift those people, the excess in the public sector, and shift them to the private sector as we stimulate growth there.
"We can't turn around and fire 20 percent of the public sector. We have to grow the private sector, and start shifting those employees over to the private sector when we gain real GDP growth. A critical part of that, understanding and appreciating a major part of that shift, is it is not a short-term issue. It will take five to ten years if that's when we focus on it."