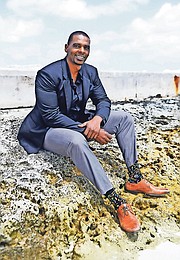 Health coach Ethan Quant, of Elite Wellness Solutions, has succeeded in his weight loss journey and now wants to share his methods with the Bahamas in an effort to foster a culture of wellness and conquer the obesity epidemic.
I know that some companies may feel that employee wellness programming can be expensive. In response to that I simply pose this question: How much value do you put on the health and well-being of your employees?
The sad reality is that many companies here in the Bahamas have little or no type of employee wellness programming in place, nor any plans for it in future.
The good news for employees who want to implement some sort of wellness initiative is that they don't have to wait on budget approval from management.
Here are four simple and free things that you can start doing at work today to start to build a culture of wellness within your organisation:
1 Start a walking or jogging group
We know that physical in activity is a major contributor to obesity. Organising a group of co-workers to walk after work is free. It doesn't have to be a long drawn-out workout either, you can start with 20 or 30 minutes after work. Just select a safe route that you can take from the office and back to get started.
2 Start a healthy recipe exchange
You can decide that every week or even every month you and your co-workers can try a new healthy recipe and bring the food to work and have a healthy potluck. This is a way to start getting everyone in the office to be more mindful of what they are eating.
3 Start a wholesale club
We all have heard that eating healthy is expensive. You can reduce the cost of healthy food if you and your co-workers decide to pool your money and buy healthy groceries in bulk. Not only will you be to buy healthier food, but you will also save money in the process.
4 Start a support group
Building a strong support network is very important, no matter what you are trying to do. Your health wellness and fitness journey is no different the group can meet weekly or monthly before work, during the lunch hour or after work. Everyone can share what their goals are regarding their health and wellness and the rest of the group can hold them accountable.
I know that there are so many more ideas out there, but hopefully this can get the wheels turning and you and your co-workers can start taking the steps to begin building a culture of wellness within your company. Remember, the race to wellness is a marathon, not a sprint, so you have to have patience in the process.
If you need help navigating this or any other area of your health wellness and fitness journey, please feel free to reach out to me directly.
• If you need help navigating any part of your health, wellness and fitness process, you can contact Ethan Quant at ethan@elite-wellnesssolutions.com or on Instagram at @ethanquant.