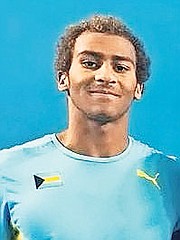 By BRENT STUBBS
Senior Sports Reporter
bstubbs@tribunemedia.net
IZAAK Bastian had a performance over the weekend at the CARIFTA Games that he will cherish for a long time as he helped the Bahamas swimming programme reign supreme once again in the Caribbean.
Bastian picked up eight gold medals with six record breaking performances, three of which came on the boys' 15-17 relay teams that left their marks in the history books.
Bastian was not the only multiple winner in their age group as Luke-Kennedy Thompson secured three gold, one silver and two bronze.
Individually, Bastian established games' records in the 50m freestyle, 50m breaststroke and 100m breaststroke. He also got gold in the 50m butterfly and 200m butterfly.
And as a team, Bastian along with Lamar Taylor, Kevon Lockhart and Davante Carey broke the CARIFTA records in the boys' 15-17 4 x 100m freestyle in 3:33.68; 4 x 100m medley in 3:54.32 and in the games' finale in the 4 x 50m freestyle in 1:35.18.
In all three relays, the quartet swam in different order.
Bastian was also was awarded the highest FINA points Swim of the Meet in the 50m breaststroke in 28.20, which was also a World's B qualifying time. The 18th FINA World Aquatics Championships is scheduled for July 12-28 in Gwangju.
Bastian was also joined by Davante Carey, Luke-Kennedy Thompson and Ian Pinder, who all surpassed the B qualifying time for the Pan Am Games as well in their respective events on Saturday.
The Pan Am Games is scheduled for July 28 to August 11 in Lima, Peru.
Marvin Johnson, competing in the boys 11-12 division, captured nine gold medals and one silver. Leading the way in the boys 13-14 division was Nigel Forbes with three gold, three silver and one bronze.
On the girls side where the individual medals were extremely hard to pick up,
Keianna Moss got a gold and silver in the 13-14 division and Zaylie-Elizabeth Thompson added a pair of silver medals.
The four days of competition concluded on Tuesday night with the
36-member team clinching its third straight title with a total of 889.5 points, ahead of Jamaica who had 748 points. Trinidad & Tobago rounded out the top three with 676 points.
In the medal standings, the Bahamas topped that as well by posting a total of 73 medals, inclusive of 35 gold, 18 silver and 20 bronze. Jamaica was second with 59 medals, including 22 gold, 25 silver and 12 bronze. Trinidad & Tobago got third with 17 gold, 12 silver and 14 bronze for their total of 43 medals.
The 2020 Carifta Swimming Championships is now set for Kingston, Jamaica over the next Easter holiday weekend when the Bahamas hope to continue its dominance of the competition.