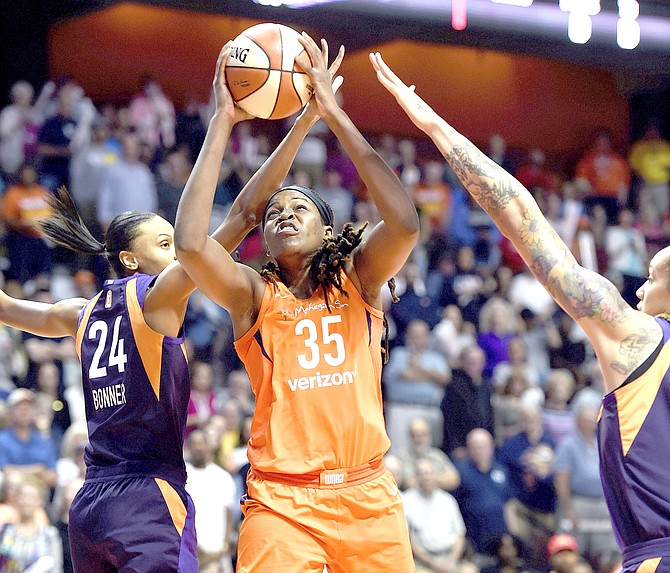 By RENALDO DORSETT
Tribune Sports Reporter
rdorsett@tribunemedia.net
The Connecticut Sun made arguably the biggest transaction of the WNBA offseason and it could lead to an increased role for Jonquel Jones.
The Sun traded former No.1 overall pick and All-Star forward Chiney Ogwumike to the Los Angeles Sparks for a 2020 first-round pick.
The Sun have a loaded frontcourt with Jones, Alyssa Thomas, Morgan Tuck, last year's first round pick Brionna Jones and incoming rookie Kristine Anigwe.
When Ogwumike was injured for the entire 2017 season, Jones posted a breakout season but was relegated to a reserve role in 2018 once she returned to the floor.
With an increased role, 2017 was a season full of milestones for the Grand Bahama native. In her second season, she was named to the All-WNBA Second Team after she averaged a double double, set the league's single season rebounds total, was named an All-Star and was awarded as the WNBA's Most Improved Player.
Jones finished the year averaging 15.5 points and 11.9 rebounds per game - a dramatic increase from her rookie season when she averaged 6.8 points and 3.7 rebounds per game.
Her record-setting total was 403 rebounds for the season. She also added 20 double doubles.
Jones' historic season included several individual milestones, including becoming just the second player in league history to record three 20-rebound games in a single season.
Once Ogwumike returned, Jones faced limited playing time and a dip in production. Her playing time dropped from 28.5 to 20.5 minutes per game as a reserve and she started only 16 of the 34 regular-season games.
Jones was still named the 2018 WNBA Sixth Woman of the Year, earning the honour as the league's top reserve for the first time in her three-year career.
She averaged 11.8 points, 5.5 rebounds, a career-high 1.7 assists and 1.24 blocked shots per game last season. She tied for ninth in the WNBA in blocks and ranked fifth in field goal percentage (55.0) and second in three-point field goal percentage (46.7).
With 50 three-pointers made, she surpassed her total from the previous two seasons combined (36). During the Sun's 9-1 finish to the season, Jones averaged 18.5 points and 6.6 rebounds. That stretch included four games of 20 or more points.
The Sun exercised 4th year team options on Jones in September.
According to CBS Sports, in 241 minutes with Jones and Thomas on the floor and Ogwumike on the bench, the Sun posted plus-17.3 net rating, due in large part to Jones' perimiter shooting and ability to space the floor.
Jonquel Jones had another successful WNBA offseason as her team captured the EuroLeague women's championship.
Jones' UMMC Ekaterinburg, of the Russian Premier League, won their second consecutive and fifth EuroLeague title with a 91-67 win over Dynamo Kursk in Sopron, Hungary.
Jones appeared in eight games and averaged 19.6 points and 7.6 rebounds per game. She shot 60 per cent from the field, 52 per cent from three-point range and 80 per cent from the free throw line. The move reunites Ogwumike, who averaged 14.4 points and 7.3 rebounds per game last season, with her sister Nneka, who was the 2016 WNBA MVP. Chiney missed the 2015 WNBA season with a knee injury and sat out 2017 because of an Achilles injury. Both were suffered while she played overseas. She shot 60.3 per cent from the field last season, the third-highest mark in the league.
Ogwumike started 80 of her 95 regular-season games in her three WNBA seasons and averaged 14.1 points, 7.5 rebounds while shooting 57 per cent from the field.