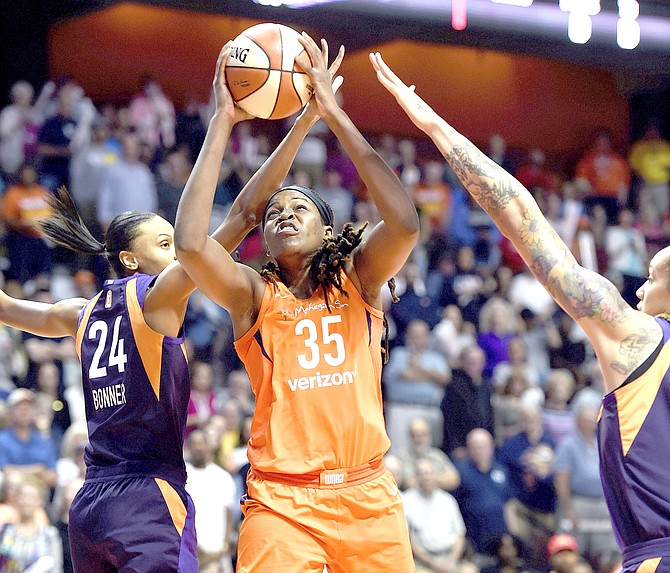 Jonquel Jones in action.
Stories this photo appears in:

JONQUEL Jones and her Connecticut Sun could return to action soon as the WNBA has a tentative proposal in place for its delayed 2020 season due to the fallout of the COVID-19 pandemic.

JONQUEL Jones was the first member of this current star-studded WNBA free agent class to sign and will remain with the Connecticut Sun for the foreseeable future. Jones signed a multi-year contract with the Sun yesterday as the league's free agency

SMACK in the middle of what has been her best season so far in the Women's National Basketball Association, Connecticut Sun centre Jonquel 'JJ' Jones said she's heartbroken about the developments of Hurricane Dorian in Abaco and Grand Bahama.The Gran

JONQUEL Jones and the Connecticut Sun dropped their second game of the WNBA preseason tournament, but the All-Star forward continues to post promising numbers in limited minutes.

The Connecticut Sun are two weeks away from the WNBA season opener, Jonquel Jones is in training camp and Sun head coach Curt Miller expects a big year from his All-Star forward.

The Connecticut Sun made arguably the biggest transaction of the WNBA offseason and it could lead to an increased role for Jonquel Jones.

The rematch produced the same result for the second consecutive year as the Connecticut Sun were eliminated at home by the Phoenix Mercury in the second round of the WNBA playoffs.