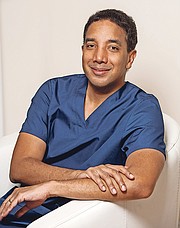 By DR GREGGORY PINTO
The recent introduction of laparoscopic curative prostate surgery for the first time ever in the Bahamas is the first step towards fulfilling of the dream of making minimally invasive robotic urological surgery an everyday reality in this country.
Minimally invasive surgery in urology has become the gold standard of care in world-class health institutions throughout the world. Every specialty in surgery has embraced minimally invasive surgery and the vast advantages associated with it.
More than 70 percent of my urology training, subspeciality fellowships and working internationally involved minimally invasive laparoscopic or da Vinci robotic surgery. Open surgery was the rare default option.
Many First World hospital centres of urological surgical excellence are ivory towers, where there are few financial limitations and there is extensive access to minimally invasive technology such as the da Vinci Robot.
The Bahamas is a developing country with endless potential and many returning surgeons with dreams of greatness for our beautiful island nation.
Change does not happen in one day and is often met with great resistance, but the struggle for the betterment of the people of the Bahamas is well worth the arduous journey.
Laparoscopic radical prostatectomies are technically very challenging, with a steep learning curve and exceedingly more difficult to perform than the same prostate curative surgery using the da Vinci System, but the current reality in the Bahamas is there is access to laparoscopic surgery, but no da Vinci Robot; at least not yet.
The expertise for robotic urological surgery exists in the Bahamas currently. The business models for the future success for the da Vinci System in the Bahamas are very promising.
The advantages of minimally invasive laparoscopic prostate cancer curative surgery are essentially the same from the patient perspective as those advantages afforded by robotic radical prostate surgery.
Minimally invasive curative prostate surgery, performed either laparoscopically or with a da Vinci Robot, allows for small keyhole incisions, less post-operative pain and quicker recovery, shorter hospital stay, increased precision in the surgery itself, less chance of infection, and less blood loss.
Robotics and laparoscopic technology allows urologists to work in very small spaces with a high degree of freedom of motion that allows for more precise tissue dissection and surgical manipulations.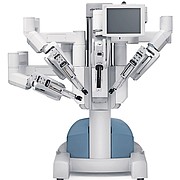 Both minimally invasive forms of prostate curative surgery allow for a ten-fold magnification of the high definition imaging of the internal structures and more precise ability to perform nerve sparing prostate surgery, so the erectile function has a greater possibility of being preserved.
Every prostate cancer patient wants the same erections before and after prostate cancer is surgically cured and minimally invasive surgery provides the greatest opportunity to reach this goal.
The robot costs $2 million initially and the consumables for every surgery are very expensive. It will likely require a minimum of 10 surgeries per month on this small island to be able to economically sustain and break even for the da Vinci Robot.
All subspecialities of surgery in the Bahamas would excel with the introduction of robotic surgery.
The advantages of minimally invasive surgery are not debatable. Robotics are used in cardiac valve replacement, appendectomies, colon resections, gall bladder surgery and spinal surgeries for example.
In the field of minimally invasive surgery in urology, robotic radical prostatectomy and radical cystectomy for curative bladder cancer and partial nephrectomies for kidney cancers are commonly performed.
Minimally invasive surgery in urology is usually a longer procedure than with open surgery and the costs also exceed that of open surgery.
However, there is qualitative and quantifiable evidence that the benefits of minimally invasive urological surgery far exceed the drawbacks.
The greater likelihood of maintaining erectile function post-minimally invasive prostate cancer surgery versus open surgery is a remaining life-long advantage that almost all Bahamian men would embrace wholeheartedly.
Both minimally invasive laparoscopic and robotic prostate cancer curative surgery make use of four keyhole mini incisions that are less than half an inch in length and a single small camera access site. Robotic and laparoscopic surgery continue to evolve with single access port surgery being introduced which means one incision and both the camera and robotic arms or laparoscopic instruments gaining access through that incision.
One in six Bahamian men will develop prostate cancer in their lifetime. Bahamian men are predominantly of African ancestry and that is a high-risk factor for more aggressive prostate cancer.
Far too many Bahamian men are dying needlessly from prostate cancer due to late diagnosis. Prostate cancer has declared war on Bahamian men and there are far too many casualties and too many preventable deaths.
Minimally invasive surgery is a necessary tool in modern urology in providing superior prostate cancer survival and better quality of life results
The goals are to cure prostate cancer minimally invasively and maintain erectile function after surgery and have no postoperative urinary issues.
Laparoscopic minimally invasive curative surgery is one step of many steps to be taken so that in the very near future easily accessible world class robotic surgery for urological patients will be available in my country, the beautiful Bahamas.
Socrates, the father of Western philosophy, said that the secret of change is to focus all your energy not on fighting the old, but on building the new.
Minimally invasive laparoscopic prostate cancer surgery has arrived in the Bahamas and robot-assisted prostate curative surgery will soon follow.
• Dr Greggory Pinto is a Bahamian urologist who has trained in South Africa, Germany and France. He is a member of the European Association of Urologists. He can be reached at Urology Care Bahamas at the Surgical Suite, Centreville Medical Centre, Collins Avenue and Sixth Terrace. Call 326-1929, e-mail welcome@urologycarebahamas.com, or visit the website www.urologycarebahamas.com.