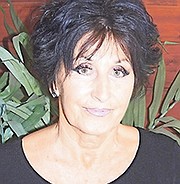 By VICTORIA SARNE
The "change of life" is a phrase usually applied to women going through menopause and, more often than not, is regarded as a negative happening both during that phase and when it is completed. True, for some women it can be a difficult time with distressing, painful physical and emotional symptoms, and much credence has been given historically to the theory, along with many other myths, that it will automatically make the woman a lesser person, diminished by the fact that childbearing is no longer an option.
We need to change that conversation first in our own heads so that we can then influence society's skewed perception that this is another downhill stop on the route to old age. In today's world of connectivity there is no logical reason for this thinking. We are living longer, have more access to information, medical help, exercise, diet options, recreation and entrepreneurial opportunities and communicating with each other is easier than ever before even for those who ultimately grow frail physically.
A more accurate use of the phrase "change of life" might be to refer to the third phase of our lives as potentially the best if we view this physical passage of time as simply transitional. We could, with the distinct change in responsibilities and duties, rethink it as being a period of transformation. We can imagine we are at a crossroads and when the light turns green, choose to keep going forward with anticipation rather than skidding to a halt under the false impression that this is pretty much a dead end. It definitely is not and although I have touched on this subject in previous articles, I want to re-enforce the idea of all the new and exciting possibilities there could be if we can change the language and our approach to this next period of our lives.
I write a lot about change and also about choice. My question is, are you actively planning ahead for your future in retirement? The inherent warning here is that too often, even as adults, we do not really make choices; we let ourselves be driven by circumstances and our "choice" in reality becomes simply a reaction to an event or occurrence.
Laura Toretta, an older woman who is a counsellor and an author says: "We need to ask ourselves where we are and where we want to go." She also says: "While we care about how old we are, we forget that adulthood is a state disconnected from years. If we do not consciously choose, we are not fully adults."
In terms of work and relationships, we often neither see, nor understand our intrinsic power. We wait for someone to choose us. We are passive when we should be asking for what we want. We are still far too often 'programmed' from girlhood to be compliant and to stay within the categories society is assigning us. We are assaulted by the tyranny of youth marketing and advertising advocating that the only way to be regarded as a woman is to be young and beautiful and countless industries are making vast profits based on this premise. It is insulting, patently untrue and in fact a missed marketing opportunity not to target women with time and hopefully money on their hands. Aging is inevitable, but ageism - a construct of society - should not be. This construct continues to beat us over the head with the false premise that we have a shelf-life.
Believing that our post-work years are as equally significant as any other time means we can choose to use our so-called retirement years by not "retiring" from life but instead strategising creatively ways in which our accumulated wisdom and experience can be used for our own re-ward, or that of others. This is where we can use the phrase "change of life", but in a different and more positive context.
• Victoria Sarne is an entrepreneur and writer. She headed a team to establish a shelter for abused women and children in Canada and was its first chairwoman. You can reach her at victoria.conversations@gmail.com, visit www.lifelineswritingservice.com, or call 467 1178.