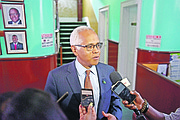 By NEIL HARTNELL
Tribune Business Editor
nhartnell@tribunemedia.net
A Cabinet minister says negotiations over multiple cruise industry investments in The Bahamas remain on track although some "are closer than others" to coming to fruition.
Dionisio D'Aguilar, minister of tourism and aviation, told Tribune Business that talks over the Grand Lucayan purchase, Carnival's $100m cruise port for Freeport, and the $250m outsourcing of Nassau's cruise port were all "proceeding on plan" from the government's perspective.
Voicing optimism that several of these projects will be underway before year-end, Mr D'Aguilar said: "My official response is that negotiations are continuing.
"Some of the deals are closer than others, some still have some ways to go. As far as we're concerned everything is on schedule and proceeding on plan. Everything is subject to final Cabinet approval. Hopefully some will be done before the end of the year; that would be the intention."
Both Carnival's cruise port and the Grand Lucayan purchase were announced during the 2019 first quarter. The latter deal, featuring a joint venture between Royal Caribbean Cruise Lines and the Mexican-based ITM Group, is proposing the $65m acquisition of the hotel coupled with a $130m investment to turn the surrounding area and Freeport Harbour into a destination product.
Michael Scott, chairman of Lucayan Renewal Holdings, the Government-owned vehicle that controls the Grand Lucayan, also confirmed to this newspaper that talks with ITM/Royal Caribbean are progressing.
"All the parties have met, we're continuing on with the negotiations and we're on track," Mr Scott said when contacted by Tribune Business, declining to comment further.
Sources familiar with the Grand Lucayan talks, speaking on condition of anonymity, said negotiations between the government and joint venture over the sales agreement and Heads of Agreement for the project were likely to begin this week.
"They're pushing hard," one contact said of the government. "They're getting down to the critical part of finalizing the Heads of Agreement. The parties have had a status meeting, and all are aware of what's outstanding, what needs to be done, and are moving to the stage of holding regular meetings to ensure they all stay on track."
Tribune Business revealed last month that the government had extended the Letter of Intent (LOI) for the Grand Lucayan purchase by 30-days to end July as ITM and Royal Caribbean sought to tie down airlift and sealift components for the project.
This newspaper was told that ITM, in particular, had become increasingly uneasy over what it perceived as difficulties in tying down the Hutchison Whampoa-controlled Freeport Harbour Company over redevelopment of the harbour.
That project, and addition of extra cruise berths, is critical if ITM/Royal Caribbean are to generate the passenger numbers necessary to sustain a transformed Grand Lucayan. Multiple Tribune Business sources, though, said the harbour and cruise port deal between ITM and Hutchison was eventually signed at the beginning of July.
With sealift out of the way, attention has now turned to Grand Bahama International Airport - also ultimately controlled by the Freeport Harbour Company - given that securing sufficient airlift is also key to the ITM/Royal Caribbean plans.
Tribune Business sources last week confirmed that the airport "is on the radar" of all involved in the negotiations, given that its relatively high fees in comparison to regional rivals have been blamed in the past for deterring airlines from flying into Grand Bahama.
ITM is thought to have been reluctant to make headway on the Grand Lucayan's purchase, and negotiations with the government, until both the harbour and airlift issues are squared away. It is seeking to bring an extra two million cruise visitors to Grand Bahama per year, creating 2,000 jobs in the first phase alone.
Its proposal focuses on developing water-based adventure theme parks at both Freeport Harbour and around the resort. The Grand Lucayan will be upgraded to "five-star hotel accommodation", and feature multiple gaming, entertainment and restaurant experiences in a bid to set Grand Bahama apart from its competitors - not just Florida and other Caribbean nations, but Nassau/Paradise Island and the Family Islands.
Meanwhile, the Government is also negotiating the transformation of Nassau's cruise port with Global Ports Holding, the Turkish-headquartered and UK-listed, ports operator that it selected as the preferred bidder for Prince George Wharf.
The Minnis administration is hoping that upgrading the port of entry for more than 3.5m cruise passengers annually will act as a catalyst to spark other efforts to revitalise downtown Nassau and the Bay Street area.
Global Ports Holding has pledged to provide a $10m interest free loan to small Bahamian retail investors to enable them to acquire shares in an investment fund that will have of 49 percent equity ownership in the project. Those 20,000 Bahamians will hold shares in The Bahamas Investment Fund set up by CFAL (the former Colina Financial Advisors).
Global Ports Holding operates 18 cruise ports and two commercial ports in ten countries, spread across the Mediterranean, Atlantic and Asia-Pacific regions. It serves over eight million passengers at its cruise ports, and handles more than 300,000 TEUs (twenty-foot equivalent units) and about five million tons of total cargo at its commercial ports.