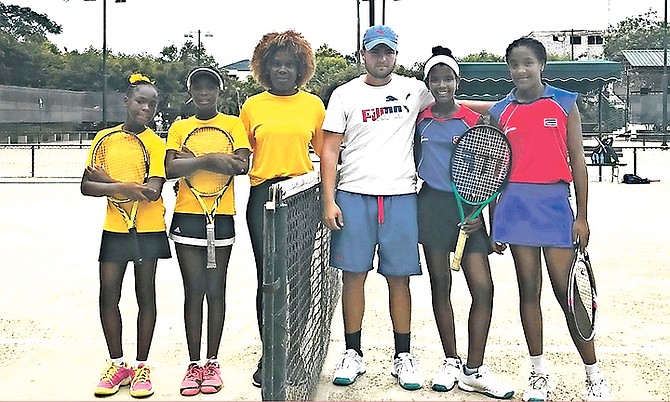 ON the Dominican Courts of Clay our girls came to play.
After recording a shutout victory against the host country, the Bahamas' under-12 girls team followed up with another 3-0 victory over Cuba yesterday.
Saphirre Ferguson would lead out the gate strong once again with a 6-1, 6-1 win. She gave up only two points as she dominated the competition.
Regarding Saphirre, Coach Marion Bain calls her "strong and focused" and those traits resulted in a singles win for Team Bahamas.
With one win in the Bahamas column, BreAnn Ferguson followed up with another solid win after facing the No.1 player from Cuba.
Even though the opposing player towered over her, BreAnn's skill and will would prove to be too much with a final score of 7-5, 6-1.
Coach Bain spoke of BreAnn's dominance and this was etched firmly in the second set.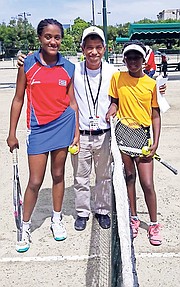 The team has won all their matches in two sets so far in this competition.
The doubles duo of Jalisa Clarke and BreAnn Ferguson pounded the clay and came out victorious over Cuba 7-6, 6-2.
Coach Bain is working the different combinations as Jalisa and Saphirre were paired up on Tuesday.
The duo yesterday was just as effective, giving the Bahamas its 2nd 3-0 win in the tournament.
The Bahamas Lawn Tennis Association congratulates BreAnn, Saphirre and Jalisa on their win over Cuba.
The girls are on a two-match winning streak and are exhibiting stellar performances amongst the best in the U12 divison in the region.
The Bahamas boys team had a day off and took to the practice courts.
They are expected to resume round robin play today.