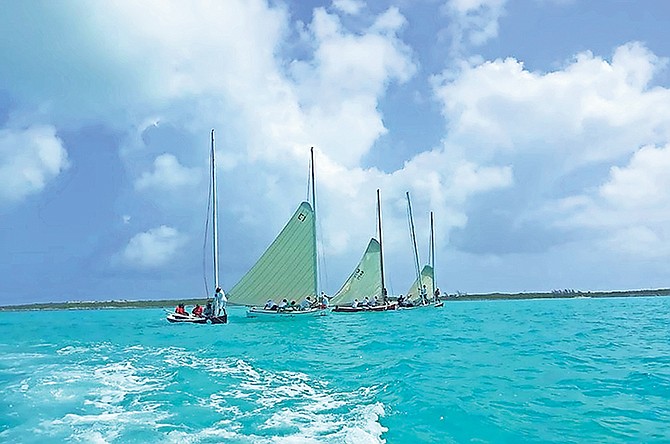 THE 56th annual Black Point Regatta, held in honour of the late Rev Lawrence Adderley, Van Ferguson and Captain Leviticus Patton, took place over the Emancipation holiday weekend in Black Point, Exuma.
The Crazy Partner was this year's winner with 21 points followed by Lady Eunice, who came in second with 20 points, and Sacrifice, who came in third with 15 points.
The Black Point Regatta started 10 years after the National Family Island Regatta in 1963. It was founded by Lawrence Adderley (the first commodore), Mike Smith, Vivian Rolle, John Smith and many others.
"The men of Black Point were the first to race C-class sloops in the National Family Island Regatta. Since then we have had four commodores and the present commodore Captain Gregory Adderley is the son of the first commodore, who plans to take the regatta to new heights," said Commodore Gregory Adderley. "At this year's regatta there were notable boats like the Slaughter, who is the reigning champion of The Best of The Best race held in Nassau. Among others were three boats from Black Point who are also past champions of the National Family Island Regatta."
Boats in attendance were the Lady Eunice, Bye Gully, Crazy Partner, H2O, Smashie, Chaser, Lethal Weapon and visiting from Long Island, Sacrifice.
This year's honourees, who were remembered posthumously, were the late Rev Lawrence Adderley, the first commodore who passed away four months ago, Van Ferguson, a boat builder who died six months ago and Captain Leviticus Patton, who died a year ago. "The Black Point Development Association and Regatta Committee would like to thank Exuma MP Chester Cooper, MP Brensil Rolle and the Commodore of the National Family Island Regatta, and all well wishers for supporting this year's regatta," Commodore Adderley said. "We would also love to thank our sponsors for a job well done and we look forward to your continuous support for the following year."