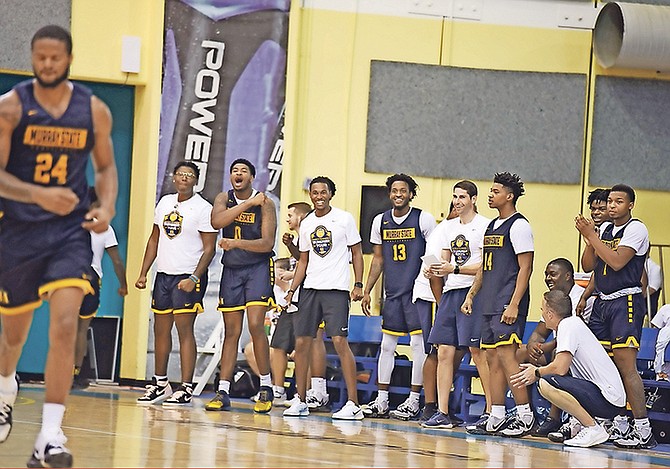 By BRENT STUBBS
Senior Sports Reporter
bstubbs@tribunemedia.net
THE visiting Murray State Racers men's basketball team turned in a great series in the Bahamas Basketball Federation's 2019 Summer of Thunder, leaving head coach Matt Mahon beaming with excitement for the upcoming collegiate season.
After holding off the Bahamas Select team 89-85 in their opener on Friday night, the Racers routed the Abaco Elites 115-61 on Saturday and knocked off the national champions Commonwealth Bank Giants 110-78 in their finale yesterday at the Kendal Isaacs Gymnasium.
"I've been thrilled with our guys' effort on this trip here," said Mahon, who is in his ninth year at Murray State, but the fifth as the head coach.
"This has been important for us. We have five new players, two players coming off medical red-shirt last year, so to get this experience here in the Bahamas has really been a once in a lifetime opportunity for our players and our entire programme."
Mahon said the physicality and the size of the players on the Bahamas Select team posed some problems for his Racers. But he said it was a difference yesterday when they faced sharp shooter D'Shon Taylor of the Giants.
"These have been great tests for us as our season goes along," said Mahon, who will allow his players to enjoy the scenes of the Bahamas today before they leave on Tuesday.
Racers 110, Giants 78
Tevin Brown, a 6-foot, 5-inch freshman guard, left his impression on the Bahamas as he led six Murray State players in double figures as they shot the lights out against Commonwealth Bank.
Brown scored a game high 25 points with five rebounds and two steals in 20 minutes on the floor. He was 8-for-14 from the field, 7-for-10 from behind the three-point arc and 2-for-2 from the free throw line.
Jaiveon Evans, a 6-2 junior guard, had 14 points and two assists, KJ Williams, a 6-9 freshman forward, had 13 points and nine rebounds, Anthony Smith, a 6-7 senior forward, contributed 12 points with five rebounds, Chinco Carter Jr also had 12 points, 10 assists, eight rebounds and four steals and Daquan Smith, a 6-1 freshman guard, added 11 points.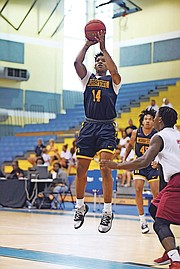 For the Giants, D'Shon Taylor finished with 24 points on 7-for-18 from the field, 2-for-8 from the three-point line and 8-for-9 from the charity stripe in 38 minutes.
Livingstone Munnings had 15 points, 12 rebounds and two block shots, Mark St Fleur also had 15 points with four rebounds and two blocks. Jacob Jackson added nine points with three rebounds and two assists and Michael Bain Jr chipped in with seven points and five rebounds.
Commonwealth Bank trailed just 29-20 at the end of the first quarter and 57-45 at the half. But Murray State opened the game in the third quarter to go up 86-61 at the end of the final break.
"We knew as time goes on the tournament, we would experience fatigue and our legs would give in," said Giants' head coach Perry Thompson. "We've won two games so far and we lost two games. We have been 3-1, but we are just trying to help the federation as best as we can."
There won't be any rest for the weary as the Giants will be back in action 7pm tonight against Georgetown University Hoyas, coached by Patrick Ewing.
Racers 115,
Abaco Elite 61
Tevin Brown had another game high performance with 19 points and six rebounds to lead Murray State on Saturday as they once again had a balanced scoring attack.
Jaiveon Evans had 18 points and three rebounds, Chinco Carter Jr had 13 points, six assists and four rebounds, KJ Williams (three rebounds and two blocks) and Anthony Smith (seven rebounds) both had 12 points and Nicah Kamba (six rebounds and five assists) and Devin Gilmore (13 rebounds and two blocks) both added 10 apiece.
Murray State went up 31-19 at the end of the first quarter and extended their margin to 56-33 at the half. They doubled the score at 88-44 at the end of the third and went into cruise control in the fourth.
Godfrey Rolle scored 18 points with three rebounds and two assists, Lio Gedeon had 16 points and 12 rebounds and Jaron Cornish added 10 points, five assists, two rebounds and a steal.
Racers 89,
Bahamas Elite 85
Tevin Brown came up with 21 points, six rebounds, five assists and two steals to pave the way for Murray State in their closest encounter on Friday night.
Anthony Smith scored 16 points with four rebounds, Daquan Smith had 15 points and KJ Williams had 11 points, five rebounds and two blocks.
Zane Knowles led the Bahamas with 16 points, nine rebounds, three assists, a steal and a block.Adam Johnson had 15 points, three steals, two rebounds and as many blocks, Dominic Bridgewater had 13 points, four assists, three steals and three rebounds, Mark St Fort also had 13 points with seven rebounds and four assists and Kenny Isnor added 13 points, six rebounds, three assists and two blocks.
Wednesday's schedule
3pm - IBA Elite vs Maryville University (Kendal Isaacs Gymnasium).
5pm - Bahamas National Team vs Texas Tech University (Kendal Isaacs Gymnasium).
5pm University of Memphis vs Commonwealth Bank Giants (Bahamar).
7pm Georgetown University vs Raw Talent Elite (Kendal Isaacs Gym).