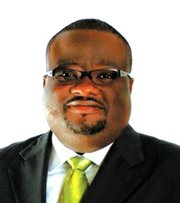 By NATARIO McKENZIE
Tribune Business Reporter​
nmckenzie@tribunemedia.net​
SKY Bahamas' principal yesterday vowed the airline "will rebound" as he and the aviation regulator again clashed over the airline's continued inability to fly.
Captain Randy Butler, the airline's president and chief executive, doubled down on claims that his business had been "victimised" and intentionally sabotaged just hours after the Bahamas Civil Aviation Authority's top executive refuted such allegations.
Captain Charles Beneby, its director-general, said Captain Butler's allegations were threatening the regulator's reputation and that of its inspectors. He warned that the Bahamas Civil Aviation Authority would not be "strong armed or bullied" into granting Sky Bahamas the Air Operator Certificate (AOC) it needs to offer commercial services to fare-paying passengers.
Following the latest inspection by regulators of Sky Bahamas' facilities, Captain Beneby said around half of the Bahamas Civil Aviation Authority's six concerns had been addressed. He expressed a willingness to work with the airline to resolve the outstanding issues despite the recent heated public exchanges.
Reiterating that Sky Bahamas has "not been singled out", and refuting Captain Butler's oft-repeated "sabotage" accusations, Captain Beneby described the saga as "an unusual set of events".
For a renewal of the AOC, he added that the regulator must be satisfied that Sky Bahamas possesses the necessary financial, operational and technical capabilities.​
"This is not a mud raking or mud slinging exercise," said Captain Beneby. "I was concerned that what was portrayed in the press did not show the Civil Aviation Authority in a good light and, in my mind, it also placed my inspectors - who I consider highly - in a very negative light. My obligation is to protect the reputation of the Authority.
"We have an operator that made an application for the renewal of an air operator certificate. The certificate is the approval granted by the Authority to an operator to grant the use of an aircraft for commercial purposes. This requires the operator to have personnel, assets and systems in place to ensure the safety of the public and the operator's employees.
"Our function is to foster and facilitate an environment in which air commerce can take place with the overriding mandate being the preservation and protection to the extent possible, as well as the safety of the flying public."
Captain Beneby said "there have been issues in the past; a number of them" with Sky Bahamas, but added that "we were able to work through those issues and they were able to continue".
He disclosed that further issues were discovered with the airline during a recent inspection, and said: "We embarked on an exercise which would have given them the opportunity to have those matters addressed in a timely manner, and to ensure safety to the flying public. Sky Bahamas is not being singled out; this is not an act of sabotage. There is no political consideration, certainly not on the part of the Authority."​
Captain Beneby said a court injunction had resulted in the closure of Sky Bahamas' operations at Lynden Pindling International Airport (LPIA) and forced it to vacate its premises there. That is understood to relate to a dispute between the airline and Nassau Airport Development Company (NAD), the airport operator, over alleged unpaid fees owed to the latter.
It emerged last year that the airline owed NAD some $454,000 in passenger facility and security fees it collects from ticket prices on the airport operator's behalf, but Captain Butler said Sky Bahamas had been making inroads into this sum as well as paying what was due currently.
At the time he branded NAD's threat to terminate Sky Bahamas' airport operating licence as "a non-issue", adding that the debt owed had been reduced and that such a situation was not uncommon with other airlines.
"I will not speak to Sky Bahamas's financial position. The claim that the Authority somehow shut Sky Bahamas down and prevented them from continuing their operations is unfounded," Captain Beneby said yesterday..
"The Authority is not going to be bullied, coerced or strong-armed into granting a certificate unless it is satisfied that an operator possesses the necessary capabilities."
Captain Beneby yesterday said "some progress" has been made despite Sky Bahamas's refusal to allow inspectors on-site. "After finally being granted permission to access, of the six findings still outstanding we were able to resolve about half of them​," he added.
He said one issue involved a pilot not having a valid medical certificate, while another involved the need to fill the position of manager responsible for safety systems.​
Addressing concerns raised by Captain Butler over an inspector being biased against Sky Bahamas, he said any official with such a potential conflict of interest would not conduct the inspection.
"There has been a relationship between Sky Bahamas and one of my inspectors in the past. I think that matter is being litigated," said Captain Beneby, who declined to say more.
Captain Butler, though, hit back by saying: ​"I think this was all about trying to embarrass Sky Bahamas and Captain Randy Butler about the court matter. I think the purpose of that press conference was, again, because of the total victimisation and the kind of sabotage these people are doing.
"The court matter is about a disputed issue and nothing to do with the air operator certificate. We have said that in terms of paying for the rent and that sort of thing those are paid up and current. You are talking about facility charges and taxes.
"We have not received the majority of that because the people who flew those times, most of those people did not pay any money in taxes or fees. We are talking over $300,000. That money has been owed for over 18 months for trips done in 2016 and 2017, and we did not collect the fees and the taxes."
Captain Butler continued: "This is all a farce. Sky Bahamas is dedicated to serving the Bahamian people. We have been doing this for 11 years. We have suffered great financial loss and great loss to our reputation. We are just thankful that we have a number of supporters that continue to encourage us. We look forward to sorting out all these matters and getting back and running."​
The airline has been grounded since July 8.