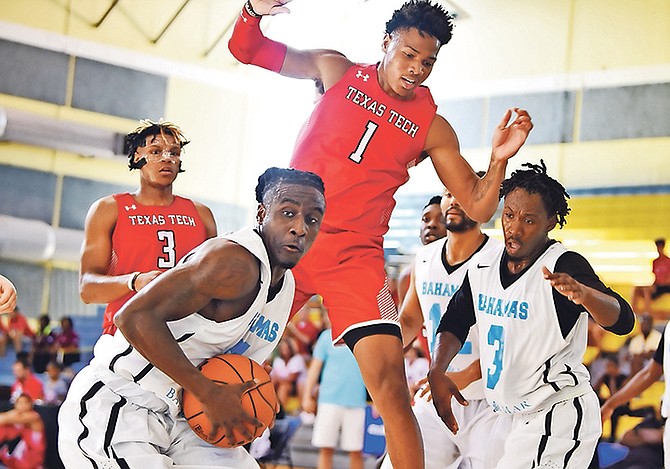 By BRENT STUBBS
Senior Sports Reporter
bstubbs@tribunemedia.net
Chris DeMarco got the first victory under his belt with the men's national basketball team by pulling off a 63-57 decision over the Texas Tech Red Raiders at the Kendal Isaacs Gymnasium last night.
It was one of three games played there in the Bahamas Basketball Federation's Summer of Thunder basketball tournament.
In the opener, Maryville University Saints won 83-66 over the IBA Elites. The University of Georgetown Hoyas played the feature game against the New Providence Basketball Association's Select team, but no score was available up to press time.
Over on the makeshift gymnasium in the ballroom at Baha Mar, one game was played as the University of Memphis Tigers routed the Commonwealth Bank Giants 114-83.
Team Bahamas 63,
Red Raiders 57
With some new players to work with in his debut as the new head coach, Chris DeMarco got just two players in double figures in what turned out to be a defensive battle.
Jaron Cornish was too quick to handle as he netted 18 points with seven rebounds, three steals and two assists, while Godfrey Rolle came off the bench and contributed 16 points, six rebounds, two assists and two steals.
Robert Nortman also came off the bench with nine points and eight rebounds, Jaz Rolle had eight points and five rebounds and Lourawls 'Tum Tum' Nairn finished with eight points, six assists and four rebounds.
DeMarco lost Zane Knowles to an injury in the first half as the Bahamas went on to snatch a 37-24 half-time lead.
In the second half, Danrad 'Chicken' Knowles fouled out, but three players didn't play, including Kenny Isnord. "We only had two practices, so coming out here, these guys haven't played together, but they just put their feet on the gas and they picked each other up," DeMarco said. "When they (Red Raiders) made their run, we made ours, so it was great to coach these guys."
With the low scoring game, DeMarco said it was because they wanted to drill "defense" in the heads of their players, ensuring that they covered for their man when they got beat."
It worked as they went up 27-24 at the half. But coming out of the locker room, he admitted that they got away from it as Texas Tech made a surge early in the second half. But the Bahamas was able to contain their lead and held on for the win down the stretch.
DeMarco and the men's team will have a big test today at 5 pm when they take on the University of Georgetown, coached by legendary NBA Hall of Famer Patrick Ewing. No doubt, DeMarco will need Zane Knowles' presence inside to counter the Hoyas' big line-up.
In a losing effort in yesterday game, Chris Clarke led Texas Tech with 25 points and 13 rebounds. Shannon Terrance came off the bench with nine points and five rebounds and both David Moretti and Avery Benson added eight points with five and four rebounds respectively.
Saints 83, Elites 66: Ross Moss pumped in a game high 19 points with 11 rebounds; Chris White had 16 points with six rebounds; Zach Colletta had 12 points and four rebounds and Dez McDaniel chipped in with 11 points, two rebounds and two assists.
Maryville University broke away from a 27-27 tie at the half by out-scoring IBA 26-14 in the third quarter and 20-15 in the fourth.
For IBA, Donte Smith canned 20 points with nine rebounds and two assists; Malachi McCoy had 14 points and six rebounds and Janus Shepherd added 12 points and five rebounds.
Tigers 114, Giants 83: After trailing 27-23 at the end of the first quarter, Memphis stepped it up and took a 51-44 advantage into the half. They came out and used a 33-15 third quarter spurt to extend their lead to 84-59 at the end of the third and cruised in the fourth on a 30-24 run.
Memphis had eight players in double figures led by DJ Jefferies with 24 points, eight rebounds and two assists.
Lance Thomas had 22 points and eight rebounds; Lester Quinones had 20 points, eight rebounds, two assists and two steals; Alex Lomax came off the bench with 17 points, five steals, four rebounds and three assists; Damian Baugh had 13 points, four assists and three rebounds; Boogie Ellis had 11 points and six rebounds and Tyler Harris also came off the bench with 10 points and six assists.
For Commonwealth Bank, D'Shon Taylor scored 20 points with seven assists and two steals and Livingstone Munnings had 19 points and 14 rebounds. No other player was in double figures, but Cordero Seymour had seven points and seven rebounds and both Michael Bain Jr and Karon Pratt chipped in with seven points.