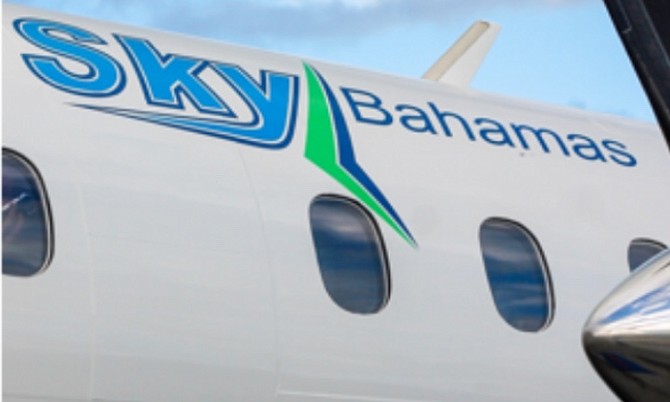 By NEIL HARTNELL
Tribune Business Editor
nhartnell@tribunemedia.net
Sky Bahamas' principal yesterday said the airline's staff "have to do what they have to do", with its near-two month grounding pushing him towards legal action against industry regulator.
Captain Randy Butler told Tribune Business he would seek to bring "some relief" to staff who have been unpaid since July 15, after a group of employees were said to have filed a trade dispute with the Department of Labour seeking what Sky Bahamas owes to them.
Confirming that the debt is owed, Captain Butler said he was simply unable to pay staff salaries or any other regular operating expenses due to the Bahamas Civil Aviation Authority (BCAA) ordering that Sky Bahamas cease commercial flights from July 8 due to issues over its Air Operator Certificate (AOC).
"The fact is I haven't paid them and I have to pay them," he told Tribune Business. "The fact is that pay day came on July 15 and we were grounded on July 8. That basically stopped our operation and dried up the funding we had.
"We had to finance alternative flights for people who were booked to travel with us, we had to deal with charter companies, and I had to use my personal credit card to keep the business going at that time. That was important, because if we kept going I could pay the people.
"The staff have been a really good group of people, and most of them I'd like to continue to work with, but these people have to do what they have to do and I hope to get some relief to them before anything else comes up."
Sky Bahamas' travails could likely not have occurred at a worse time for many of the 63 staff employed when it was grounded due to the rapid approach of Back-to-School expenses. Tribune Business sources revealed several employees have attempted to access their pension fund monies - so far without success.
Captain Butler, meanwhile, told Tribune Business he still had "access to my office" despite the posting of a notice over the weekend that said Sky Bahamas had been evicted by its landlord and directed all inquiries to two Glinton, Sweeting & O'Brien attorneys, Roy Sweeting and Giahna Soles-Hunt.
"Effective Saturday, August 17, 2019, the previous tenant of these premises, Sky Bahamas Airlines, has been evicted and the premises have been secured and reoccupied by the owner, AOG Maintenance Company. The contents of the premises are presently destrained for rent," the notice said.
"Access to, and entry upon these premises for any reason by any person is forbidden save with the express permission of AOG Maintenance Company...... Trespassers will be prosecuted to the fullest extent of the law." However, Captain Butler said yesterday: "That didn't stop me."
Although hopes that Sky Bahamas can be revived appear to be fading, its principal told this newspaper that he is "not going to lie down" even though the airline appears some way from obtaining a renewed AOC - the permit that allows it to carry fare-paying passengers.
Captain Charles Beneby, the Bahamas Civil Aviation Authority's director-general, in an August 9 letter to Sky Bahamas' attorneys said there were "two unresolved findings" stemming from the regulator's August 1 inspection of the airline's facilities to ensure it had addressed all outstanding "safety concerns".
He explained that the Authority was "not satisfied" that the person nominated as Sky Bahamas' safety officer had shown the necessary qualifications to meet the responsibilities demanded by that post, and that it would not approve them.
"I wish to stress that the Authority cannot issue an Air Operator Certificate until your client until its nominee for the safety management position has been approved by the Authority," Captain Beneby wrote to Tamica Colebrook at Bowe Partners & Associates.
Captain Butler disputed the Authority's assertions that his nominee was unqualified, but in an August 14, 2019, letter seems to have put himself forward as the safety manager. This drew a sharp response from Captain Beneby two days' later, who said the Sky Bahamas principal could not hold this position while being the airline's accountable manager at the same time.
"I might add that Captain Butler would be well aware of that," he said sharply. The other Authority concern, detailed in its August 9 letter, centred around the fact that Sky Bahamas' operations manual was "not in full compliance to satisfactorily address the Authority's findings".
Captain Butler told Tribune Business that the Authority has yet to specify what the deficiencies are, although it said it was prepared to issue the AOC provided the weaknesses were addressed within 30 days.
Captain Beneby, though, said the regulator had also received a Supreme Court order, dated July 23, where Justice Diane Stewart required Sky Bahamas to "cease all operations at the Lynden Pindling International Airport (LPIA) and vacate property leased to it" by the Nassau Airport Development Company (NAD) within 14 days.
That relates to the dispute between Sky Bahamas and NAD over a six-figure sum in passenger facility user fees and security fees allegedly owed to the latter by the airline. However, Tribune Business has seen a subsequent August 8 letter, written by Tara Archer-Glasgow of Higgs & Johnson on NAD's behalf, which gives Sky Bahamas 90 days to vacate by November 6.
Still, Captain Beneby told Sky Bahamas' attorneys' one day later that the NAD dispute meant he had to ask Dionisio D'Aguilar, minister of tourism and aviation, about "the current state of your client's air transport licence prior to issuance of an AOC to your client".
That licence is issued by a different body, the Air Transport Advisory Board, which warned Sky Bahamas on June 13, 2019, that "there can be no guarantee of an expeditious and/or favourable consideration" of the airline's licence renewal after Captain Butler declined to brief it "on matters relative to your current operations".
Accusing the Bahamas Civil Aviation Authority of "moving the goal posts", Captain Butler yesterday said it was "pushing me and pulling me to go to court" over the AOC issue. "That's the only way to get relief, and we have sufficient evidence to show bias and the level of political interference," he added.
Such claims have already been rejected by Captain Beneby.