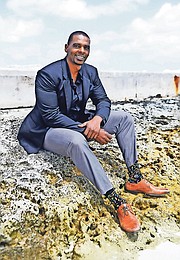 Health coach Ethan Quant, of Elite Wellness Solutions, has succeeded in his weight loss journey and now wants to share his methods with the Bahamas in an effort to foster a culture of wellness and conquer the obesity epidemic.
"Tis the season to be jolly"…You know how that song goes. As you make your way around town you will notice that the Christmas decorations are going up, the smell of pine is in the air, the weather is a bit chilly and coffee cups are now red and white, and oh, of course Christmas music is everywhere. It's the holiday season, or as I like to refer to it, the eating and drinking season.
I have worked with so many clients who have shared that this is a hard time for them because they want to partake in the festivities, but are concerned that they will undo a lot of the progress they've made. Then I have those who just give up and surrender themselves to the season and hope for the best as the new year rolls around and they can finally get started on their health and fitness journey. Then there are those who are committed to staying on track with their goals and just want some guidance.
If you fall into any of these categories then you are defiantly in the right place. Over the next few weeks I will be sharing my holiday health and fitness guide to help you not just navigate the holidays, but conquer them. I will be sharing proven strategies that you can implement now so that you can still enjoy the holidays without sacrificing the hard work you have put in during the year, and that will give you a head start on your new year's goals.
We will cover:
How to set realistic goals for the season and the new year so that you know what you are working towards.

How to develop an effective action plan for the holiday season that won't leave you miserable and missing out. This is important because we all know that failure to plan is planning to fail.

Nutrition and exercise tips that will let you enjoy all of the great food and drink, but not set you further back than when you started.

Strategies for getting a jump-start on your new year's goals that will have you finishing this year off strong and entering the new year with momentum.
We all want to use this time to release the stresses of the past year and embrace the exciting possibilities of the new one. We want to celebrate with friends and family, give and receive gifts from those we care about. We all want to have fun and enjoy ourselves. I am just going to help you through all of that without the horrible aftermath of holiday weight and a sluggish start to your new year goals.
So if you would like help navigating the holiday season, stay tuned, because I am going to be giving you all of the strategies to do just that.
• You can contact Ethan Quant at ethan@elite-wellnesssolutions.com or on Instagram at @ethanquant.