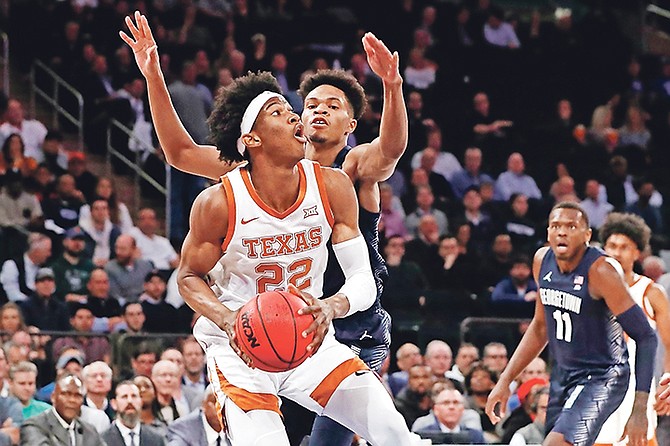 By RENALDO DORSETT
Tribune Sports Reporter
rdorsett@tribunemedia.net
AFTER playing sparingly through the first few games of his freshman season with the Texas Longhorns, Kai Jones inquired about the best way forward for him to receive more playing time from head coach Shaka Smart.
Smart has responded by working Jones into the rotation as the season progresses and the Longhorns prepare for conference play in the BIG 12.
"One thing about Kai, he has the best work ethic of any 6'11 player I have ever coached. That really is going to serve him well moving forward. A lot of guys 6'0, 6'2" they get in the gym and work on their game, but he really works. He was in here earlier working with coach Barry and I said 'listen man, you had an urgency to get on the floor when you weren't playing and you played extremely hard in practice. That has to continue. Your rebounding interval has to continue to get better.' Right now he's at 4.6 - got to get better, got to get better. I think that the key there as a player - and I made this point to him as well - can you be highly receptive to that," Smart said. "For just a minute it might seem like 'hey coach is coming at me'. It's all in helping a kid to get better. I think his receptivity has been good of late. When we get on the practice floor and in on the court we want him to be highly competitive and take ownership of what he needs to do."
In Saturday's 87-76 win over the Central Michigan Chippewas at the Frank Erwin Center in Austin, Texas, Jones set a career high with six rebounds and made the first three-point field goal of his collegiate career in just 17 minutes.
This marks the best 10-game start (9-1) in the Shaka Smart era at Texas. UT posted a 7-3 mark in 2015-16, 2017-18 and 2018-19. It's the best 10-game start by the Longhorns since UT went 9-1 in 2014-15.
"He works like a guard, most bigs don't work great at that age. They're still learning to work. All those guys that we've had at that position developed so much better work ethic during their time here and beyond.
"The Brooklyn Nets rave about Jarrett Allen's work ethic now and he got so much better the one year he was here. But Kai came in with a work ethic and drive to get better and he has big goals, so that says a lot about him," Smart said.
"But it is saying to work your tail off and not give unbelievably great effort on the floor. I'm not saying he's doing that but that's something we got to keep in the front of his mind to make sure that he's really, really getting at it and that he has a little more in him that he can pull out of himself."
Jones finished with eight points on 4-5 shooting from the field in just 10 minutes of the Longhorns' 73-71 win over McNeese State on November 30 to set a season-high in points and field goals made. In the following game, he had three blocked shots against UAB.
Jones, an incoming member of the 2019 freshman class, came to Texas as one of the top 50 Prep Basketball recruits in America. He was listed at No. 49 in the final ranking of the ESPN Top 100 for the Class of 2019 following his standout season at Brewster Prep Academy in Wolfeboro, New Hampshire.
A consensus four-star recruit, Jones earned a scout grade of 88 overall and was ranked No.13 among all centres, No.12 in his region and No.1 in the state of New Hampshire.
Longhorns travel to play Providence in the Big East/Big 12 Battle, on Saturday, December 21. Following a December 30 matchup against High Point, conference play begins on January 4 at the Baylor Bears.