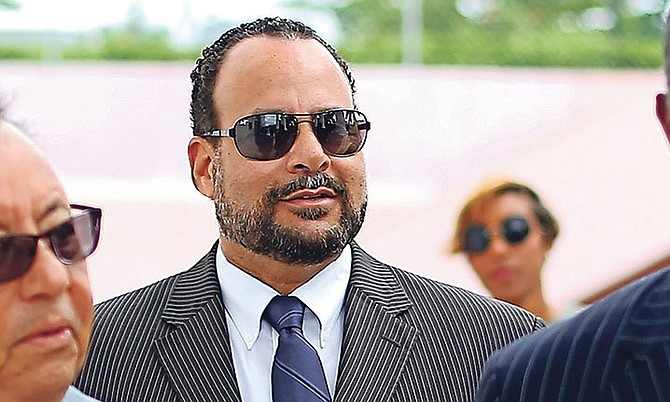 By NICO SCAVELLA
Tribune Staff Reporter
nscavella@tribunemedia.net
FORMER PLP Senator Frank Smith was acquitted of all charges in his bribery and extortion trial on Friday, after the chief magistrate found that a case had not been made against him sufficiently to require her to compel him to answer to the allegations.
Chief Magistrate Joyann Ferguson-Pratt acquitted and discharged Mr Smith of all 15 criminal charges after finding fault with numerous "inconsistencies" and "discrepancies" in the Crown's case, which she further said was "undermined" by its own witnesses.
In particular, the chief magistrate said there were "inherent inconsistencies" throughout the evidence of the virtual complainant in the matter, Barbara Hanna, and that her claims were "manifestly unreliable" and ran contrary to "reason and all common sense".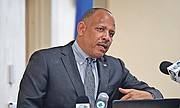 Chief Magistrate Ferguson-Pratt also criticized both Health Minister Dr Duane Sands and National Security Minister Marvin Dames for the "egregious" way in which they interacted with Mrs Hanna prior to a police investigation into her claims, charging that their conduct gave the appearance of a "political flavour to a curious bystander."
The chief magistrate especially criticised how a "serving member of Parliament" and Cabinet minister, Dr Sands, "entertained" Mrs Hanna in the circumstances despite her contributing some $300 towards his political campaign in the lead up to the 2017 general elections.
She further commented on how Dr Sands approved a $1.9m contract for Mrs Hanna's business without the approval of the Public Hospitals Authority's (PHA) board of directors, at a time he said he was fully aware that Mrs Hanna was a contributor to his most recent campaign.
And, she said she could not "overlook" the fact that Dr Sands admitted that Mrs Hanna told him about Mr Smith's alleged acts of extortion sometime in November 2016, which he never reported to the police.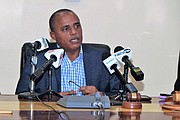 Instead, Dr Sands referred the matter to Mr Dames, who ultimately met with the woman at his Mt Moriah constituency office between late May/early June of 2017. However, the chief magistrate noted that even the Crown's lead attorney said Mr Dames could have found a more discreet venue to meet Mrs Hanna over her concerns other than his constituency office.
She thus said the events that took place prior to the investigative phase of the matter involving both Cabinet ministers was "wholly inappropriate to state it mildly".
"The conduct of the minister responsible for the police agreeing to meet the complainant instead of directing his colleague to refer the complaint to the commissioner of police is unorthodox to say the least," Chief Magistrate Ferguson-Pratt said. "I sit as a judicial officer. I call it as I see it. I have no interest one way or the other. I remind myself of an ancient legal maxim. 'Justice must not only be done, it must be seen to be done'."
And in any event, Chief Magistrate Ferguson-Pratt said both Dr Sands' and Mr Dames' evidence, much like those given by the other key Crown witnesses in the matter, did not advance the prosecution's case, as they all gave evidence of what Mrs Hanna said to them that she either never said in evidence, nor gave to the police during her initial interview.
"On the whole, having considered the prosecution's case, it is the opinion of this court, that the principle Crown's witness, Barbara Hanna, is not credible," the chief magistrate said.
"The court, having regard to Barbara Hanna's demeanor and on her cross-examination, found her to be discredited and her evidence manifestly unreliable. Together with the inconsistencies and discrepancies and the key prosecution witnesses as a whole, in the circumstances, I do not consider that a sufficient case has been made out against the accused to call upon him to lead a defense."
She subsequently invited Mr Smith to stand, after which she declared: " Mr Smith, I hereby acquit and discharge you of all charges."
All present in the courtroom who showed up in support of Mr Smith, which included former Prime Minister Perry Christie and former Education Minister Jerome Fitzgerald, clapped and cheered after the adjudicator's ruling, though they were warned to maintain their silence as the proceedings had not yet concluded.
When the matter was finally adjourned after Chief Magistrate Ferguson-Pratt's "egregious observation" of Dr Sands' and Mr Dames' conduct, Mr Smith was warmly embraced by his wife and family members.
Mr Smith, in speaking with reporters after the ruling, did not comment much about being exonerated, though he offered his thanks to God, his wife, his family, his legal team and PLP Leader Philip "Brave" Davis, whom he dubbed "Prime Minister in waiting whenever the next election is called".
Mr Smith instead deferred to his lead attorney Keith Knight, QC, to address the media for him. However, he indicated that there would be "many, many opportunities" to speak about what happened in the near future.
Mr Knight, meanwhile, asserted that Mr Smith should be compensated for "all that he has suffered" as a result of the entire ordeal, which has lasted since July of 2017 when he was first arraigned on the charges.
The Jamaican attorney also charged that persons in "authority" should "take heed" to observations that have been made of the way Mr Smith's case was conducted, and asserted that the country's judicial system could otherwise be reduced to a "laughing stock."
"For all that he has suffered, for so long, somebody ought to take some responsibility and insofar as money can repair his reputation, then there ought to be an appropriate sum, not that he should sue for, but should be offered to him as a settlement, and as a demonstration that there are still those who feel that when a citizen has been wronged, then something ought to be done to repair the reputation of that injured person," Mr Knight said.
Mr Knight added: "This is a finding not of not guilty. This is a situation where the end result today has shown innocence in Frank Smith. 'Not guilty' means a charge isn't proved. 'Innocence' means that the charge should never have been launched, and what was launched could never ever result in a conviction.
"And I hope for the sake of the Bahamas, that those in authority take heed because some observations have been made which, if not stemmed, then it will make the justice system in the Bahamas be a laughing stock. Justice is important to the survival of a democracy."
Meanwhile, Former PLP Cabinet minister George Smith, Mr Smith's uncle, lamented the Crown's decision to fly in an English attorney in Edward Jenkins, QC, and pay him almost $40,000 a day to "use the resources of the state to prosecute and to persecute a citizen of the Bahamas".
"I think that on behalf of our family, Sir Franklyn and Lady Wilson, my brother Richard and his darling wife, Elisa, and all of us, we Smiths and we Wilsons, when they messed with Frank, they took on the wrong people.
"…You'll be hearing a lot about this over the weeks and months ahead".
In July of 2017, Smith was arraigned before the chief magistrate on 13 counts of extortion, and one count each of attempted extortion and bribery.
It was alleged that between April 2016 and April 2017, in respect of his duties as a public officer, Mr Smith demanded and obtained $5,000 per month from Mrs Hanna, knowing that he was not lawfully authorized to do so.
He was also alleged to have attempted to extort another $5,000 from Ms Hanna in May 2017.
Concerning the bribery charge, it was alleged that he solicited $5,000 a month from Mrs Hanna for aiding her in getting a contract with the PHA.
According to the evidence led at trial, in March of 2016, Mrs Hanna's cleaning company, Magic Touch, was awarded a $500,000 contract by the PHA to clean the Critical Care Block (CCB) of the Princess Margaret Hospital (PMH). Mr Smith chaired the PHA at the time.
After she was awarded the contract, Mr Smith was alleged to have contacted her and requested a meeting. At that meeting, Mr Smith was said to have demanded the sum of $5,000 from Mrs Hanna. After receiving her first contract payment, Mrs Hanna said she satisfied Mr Smith's demand, believing it to be a one-time payment.
Upon doing so, however, she claimed she was told she had to make monthly payments in that amount.
Mrs Hanna subsequently paid Mr Smith the $5,000 every month between March 2016 and April 2017, save for August 2016, according to the now-rejected evidence. The Crown further alleged that a subsequent request for payment was made in May of 2017; however, Mrs Hanna refused that request because Mr Smith's political party, the PLP was no longer in power, and/or because he was no longer in a position of authority to request and/or demand the same.
However, the Crown, via Mr Jenkins, later asserted that Mrs Hanna's assertion that she met with Mr Smith in March of 2016 after she was awarded the $500,000 contract was a "simple mistake", and instead asserted that she met with Mr Smith in March of 2015.
However, the chief magistrate noted on Friday that there was not "one scintilla of evidence" to suggest that Mrs Hanna met with Mr Smith prior to December of 2015, and further charged that the Crown's effort at trying to establish that the two met in 2015 "casts further serious doubt on whether the conversation ever took place".
Chief Magistrate Ferguson-Pratt further noted that there was "force" in Mr Knight's previous argument that if the alleged extortion or bribery was taking place concerning a contract worth $500,000 annually, then it is likely that a similar arrangement would have been entered into for the award of the $2m contract Mrs Hanna unsuccessfully bid for to clean the Sandilands Rehabilitation Centre (SRC) around the same time she was allegedly paying Mr Smith $5,000."
Mr Knight had submitted that to prove that his client is an "innocent man", a "dishonest person" would have taken advantage of that situation to "enrich himself" by ensuring Mrs Hanna got the $2m contract, just so he or she could tax her even more money on the back end because they would have known she's a "willing participant."
The chief magistrate concurred with that submission on Friday, stating: "The circumstances presented an opportunity for the accused to extort her further, knowing, according to her evidence, that she was susceptible. It would not be unreasonable to be of the view that having not seized or attempted to seize upon this opportunity supports the proposition that the allegations by (Mrs Hanna) are false."
Damian Gomez, QC and Philip McKenzie assisted Mr Knight in Mr Smith's defense.
Kendra Kelly and Al-Leecia Delany assisted Mr Jenkins in representing the Crown in the matter.