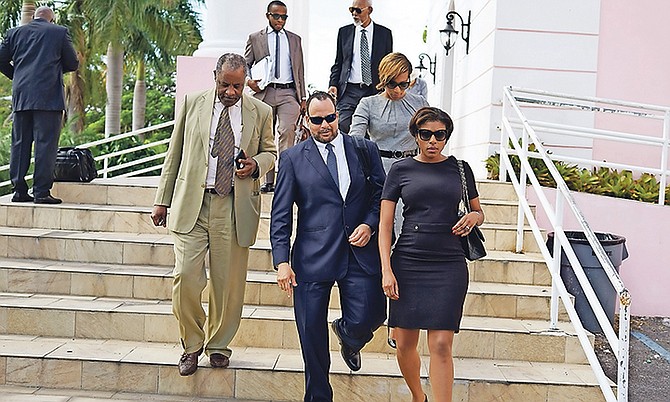 By RICARDO WELLS 
Tribune Staff Reporter
rwells@tribunemedia.net
THE Crown's lead attorney in the extortion and bribery trial of Frank Smith has suggested that star witness Barbara Hanna's indication that she met with the accused in March of 2016 after she was awarded a cleaning contract was nothing more than a "simple mistake," stunning the court Wednesday with the admission that the prosecution's case was built around this error in the record. 
According to submissions Wednesday by Crown attorney Edward Jenkins, QC, despite her evidence that she first met Smith in March 2016 at the behest of former Deputy Prime Minister Philip "Brave" Davis, months after her Magic Touch cleaning company was awarded a $500,000 annual contract from the Public Hospitals Authority, Hanna did in fact meet with Smith in March of 2015.
The prosecution further indicated that this fact gives credence to Hanna's claim that she was bribed and extorted by Smith to the tune of $5,000 per month for him helping her secure the contract.
Mr Jenkins said the error, now clear to the prosecution, was left unchecked and not addressed for the entirety of the police's investigation of Smith, his subsequent arrest, charging, and now trial. 
The admission shocked Chief Magistrate Joyann Ferguson-Pratt, who is hearing the matter.  
Mr Jenkins was initially responding to the "no case" submissions by Smith's defence team and spearheaded by Keith Knight, QC, Smith's lead attorney.
Mr Jenkins, in his opening statements, conceded that if Mrs Hanna's account of when she first met Smith could not be taken at face value, he was of the view that the extortion charges against the accused should be dropped.
He additionally remarked that if her remaining evidence of having to pay Smith was also not viewed as truthful, then the bribery charges ought to also be dropped.
Following a short recess, the statement was countered by Mr Knight almost instantly, when he asked the court to have its stenographer read aloud its record of the proceedings.
Once Mr Jenkins' statement was repeated, Mr Knight countered that he was in possession of evidence that directly contradicted the prosecution's claim of when Mrs Hanna first met Smith.
Mr Knight then presented Smith's record of interview with police, highlighting several questions that clearly outlined that Mrs Hanna's account of the ordeal reflected that they met in 2016 after the contract was awarded and not in 2015, prior to the awarding of the Critical Care Block contract.
Referring to questions five, 10 and 11 asked of Smith during that interview, Mr Knight pointed out that Smith was only questioned on events that occurred in 2016 - with none of the questions mentioning occurrences in 2015. 
The questions, which were repeated in court Wednesday, all refer to 2016. 
"These show equivocally that the meeting that (she) said took place in 2015 … did not take place," Mr Knight told the court. 
"It is categorical that it was 2016," Mr Knight added, saying there was no need for the case to continue. "There is no need for tomorrow, Friday or Saturday."
In response, Mr Jenkins argued that the questions cannot be viewed as evidence, as the record of interview was never tendered into the case's records. 
However, Mr Knight and Magistrate Ferguson-Pratt countered that both a video record of the interview and testimony of Mrs Hanna claiming the date to be March 2016, had been entered.
Magistrate Ferguson-Pratt then sought a recess to review the arguments.
During the recess she summoned both sides into a meeting in her chambers, returning nearly half an hour later to adjourn proceedings to today. 
It is alleged Smith, former PHA chairman, between April 2016 and April 2017, demanded and obtained $5,000 per month from Mrs Hanna, knowing he was not lawfully authorised to do so. 
He is also alleged to have attempted to extort another $5,000 from Mrs Hanna. And concerning the bribery charge, it is alleged that he solicited $5,000 a month from Mrs Hanna for helping her to get a PHA contract.