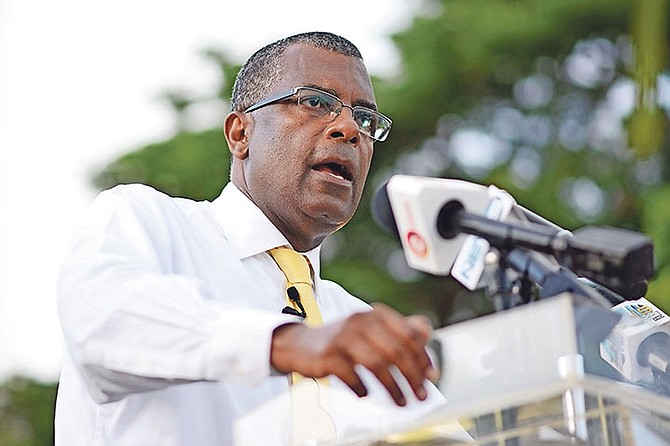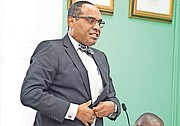 By RICARDO WELLS
Tribune Staff Reporter
rwells@tribunemedia.net
Progressive Liberal Party chairman Senator Fred Mitchell said there is "no evidence" of misconduct regarding the Christie administration's housing programme as he hit out at statements made by Housing Minister Romauld Ferreira in the House of Assembly on Wednesday.
Mr Mitchell fired back in the Senate yesterday, accusing the Minnis administration of using the matter to further its "false narrative" of the PLP being corrupt.
"… There is no evidence whatsoever of any wrongdoings with regard to conduct by the last administration on housing," Mr Mitchel told the Upper Chamber yesterday. "That's the point I am seeking to make. There is confusion about that and our supporters and so on and so forth, I want to make it plain, there is no allegation which can be proven; no evidence of such conduct."
In a heated back and forth with Mr Davis on Wednesday, Mr Ferreira tabled documents which showed that Priton Bahamas Limited, contracted to do work in a Carmichael Road subdivision, claimed to have completed work in the amount of $2,192,019.84, however, upon investigation by officials, only $367,288.61 worth of work could be proven.
Priton's agent, according to a company search, also tabled yesterday, was listed as Valentine S Grimes, who is a Progressive Liberal Party trustee.
Several big items were slashed, including a line item for trucking services and fill. Priton claimed to be owed $867,649.71 for this service, but the ministry had only agreed to $311,913.89. Salaries were also slashed from $981,500 to a recommendation of zero from officials. National Insurance Board contributions in the amount of $18,944.42 also had the same recommendation.
This was documented in a June 2018 memorandum from the Ministry of Public Works. The memo further attached a minute paper from a senior engineer depicting the breakdown of the claim and the ministry's recommendations.
Responding to documents on Wednesday, Mr Davis said the manner in which they were table imputed to him, some level of dishonourable conduct in his capacity as former works minister.
Mr Davis went on to say that he was unaware of any such transaction when he held the post, insisting that Mr Ferreira had, in a sense, breached his privilege and misled the House of Assembly.
The matter was subsequently referred to the House of Assembly's Committee of Privilege for review, a point Mr Mitchell had to be reminded of on two occasion in the Senate yesterday; once by Minister of Labour Senator Dion Foulkes and Senate Vice President Dr Mildred Hall.
In response to the latter, Mr Mitchell contended: "That as, Madam Vice President, reflects the character and reputation of the leader of the opposition…there is a narrative which is continued to be drummed around which is trying to impose this story of corruption on the Progressive Liberal Party."
He continued: "It is a false narrative, and every time somebody by innuendo comes up with this stuff, I am bound by my position to say that it is a false narrative. That is point I am making, because thus far, there is no provable evidence on that point, except that it is a nice story that has been spun.
"That is fine, as I say, when we go out on the hustings we can do that and the public can decide. But given the obligations I have, I just want to be sure. You see I teased the minister opposite about his being a good spokesman for his side because at least, when I heard him speak, concedes what is the truth of matters. You can then say I disagree, you know, I don't believe you did a good job, I think you did a bad job; but the truth is the truth," Mr Mitchell added. "That is the only point I am making with regard to this. So, I wanted to make that point, as he said early, pellucidly clear, that I will always stand up against it in anytime that narrative is spun."
In a statement issued by Mr Mitchell on Wednesday, the PLP called for the dismissal of Mr Ferreira.