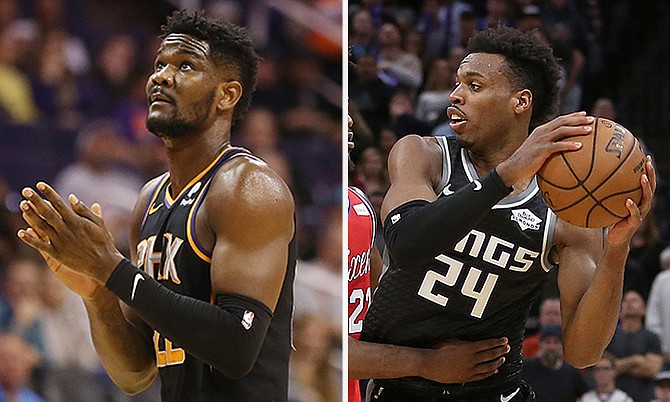 By RENALDO DORSETT
Tribune Sports Reporter
rdorsett@tribunemedia.net
Deandre Ayton returned to the court after missing with an ankle sprain while Buddy Hield produced his fourth 30-point game the season and set a new career high for three pointers made in a single campaign.
Ayton finished with 13 points and 11 rebounds for his 28th double double of the season but the Suns fell 118-112 to the Atlanta Hawks Saturday at the Talking Stick Resort Arena in Phoenix, Arizona.
It was the 10th consecutive loss for the Suns who fell to 11-43 on the season.
There were 11 ties and 10 lead changes in a tight first half with Atlanta leading 58-57 at the break. The Hawks' biggest lead in the first two quarters was 10, the Suns' five.
Ayton also leads all rookies with 10.6 rebounds per game and a .594 field goal percentage. He also ranks second in scoring at 16.4 points per game in 48 appearances this season. His field goal percentage is the third-highest in NBA history by a rookie qualified for the league leaderboard and the highest by a rookie who is averaging a double-double.
Many pundits expect Ayton to extend his range to the perimeter after he was seen working with Suns' head of player development Cody Toppert on his three point during shotaround.
Ayton has taken just two three point attempts thus far this season and shot 34 percent in 35 attempts during his lone season at the University of Arizona.
"It's a process, nothing happens overnight. At some point, he's gonna start shooting. That's modern basketball, three-point line, the power of the three-point line — we all know how important it is for modern basketball," Suns head coach Igor Kokoskov said following shootaround. "But the thing is, for him to start shooting he can't just say 'OK, today is Monday, today is Tuesday — I'm going to start shooting'. It's a process, it requires time. But right now I want him to dominate the game in different areas but if he's open for a three-point look I have nothing against it. A big guy with such a soft touch — sooner or later he's gonna be there."
Hield, on the other hand, is known for his three point shooting prowess and added another milestone in his breakout season.
He finished with 34 points and shot 7-13 from three in the Sacramento Kings' 115-108 win over the Philadelphia 76ers Saturday night at the Golden 1 Center in Sacramento, California.
Hield now has 180 three-point makes this season in just 52 games to surpass his previous high of 176 set in the 2017-18 campaign. He is currently tied for fourth in the NBA in three point percentage.
Hield is averaging a team-leading 20.5 points, 4.9 rebounds, and 2.3 assists per game. Hield is also shooting efficiently at 48 percent from the field and 46 percent from three.
"It's getting easy ones to get myself going and it's keeping the defense honest," Hield said. "Just trying to make them play on certain areas on the court."
Sacramento improved to 27-25 on the season and has already matched their win total from last season before the All-Star break. They are also currently 1.5 games out of the final playoff spot in the Western Conference.
"If we were in the East we'd probably be the fifth or sixth seed," Hield said. "Everybody's still doubting us but we believe in ourselves and we're going to keep believing."
Ayton and Hield will participate at the league's All-Star Weekend festivities, February 15-17 at the Spectrum Center in Charlotte, North Carolina.
Ayton was selected as a member of the World Team for the 2019 Mountain Dew Ice Rising Stars, hosted Friday, February 15, while Hield was named as a participant in the 3-Point Contest, hosted on State Farm All-Star Saturday night. Hield previously participated in the Risings Stars Challenge in both 2017 and 2018.