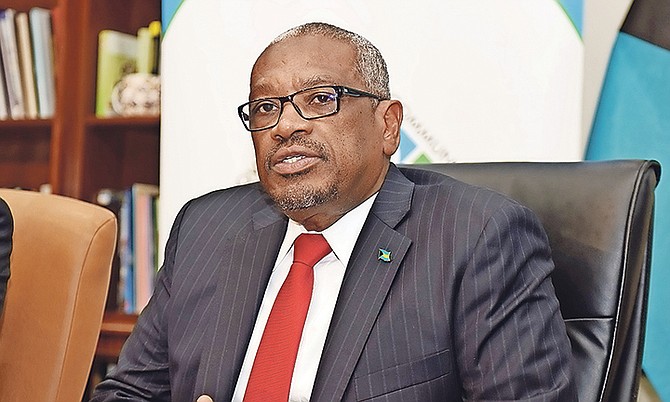 By NEIL HARTNELL
Tribune Business Editor
nhartnell@tribunemedia.net
The relocated Carnival cruise port will create up to 1,000 jobs and become the company's largest such facility in the world, the prime minister said last night.
Dr Hubert Minnis, addressing a Freeport town meeting to unveil the development, said the economic benefits produced by Carnival's investment "will reverberate throughout" The Bahamas by bringing "millions more tourists" to this nation every year.
Billing it as "a significant catalyst for economic growth in Grand Bahama", the prime minister said: "The new port will create hundreds of jobs in the short-term, and has the potential to provide more than 1,000 direct and indirect permanent positions within the next few years as we anticipate the bulk of the on-island construction work will be done by Bahamian contractors, and the bulk of the retail and restaurants will be owned and operated by Bahamians.
"This major project holds the promise of a myriad of opportunities for local businesses and entrepreneurs to fulfill their own visions of success and prosperity. Grand Bahamians should prepare themselves for the potential benefits from the additional cruise passengers, including for shops, tour drivers, taxis, musicians, businesses and restaurants, hair braiders, arts and craft artisans and stores, souvenir producers and stores, and other enterprises."
Dr Minnis called on Bahamians to develop heritage and cultural-based tours and other products to cater to Carnival's cruise passengers, and added: "This cruise port, which will be the largest Carnival cruise port in the world, seeks to make Grand Bahama and The Bahamas one of the best cruise destinations in the Caribbean.
"I am advised that this project promises to be one of the most technologically-advanced cruise ports in this region with a state-of-the-art, point of sale cashless system."
The Carnival cruise port is a project that has been on the drawing board for more than a decade, covering both Christie administrations and the last Ingraham administration. It was originally set to be located at Williams Town before the last Christie administration signed an agreement with the cruise line to move it to eastern Grand Bahama.
The latest version moves it into the Port area at a site near the University of The Bahamas at Sharp Rock. "The development of the Carnival cruise port has been a long time in the making. It has been discussed by successive governments, and has gone through various changes to arrive at this impressive model," Dr Minnis conceded last night.
He also "refuted emphatically" claims made in a widely-circulated video that The Bahamas is the most unsafe cruise destination in the world, adding: "We take the issue of visitor safety very seriously. Bahamians are known worldwide for our generosity, kindness and welcoming disposition."