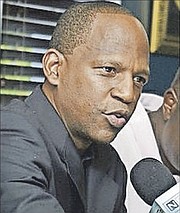 By MORGAN ADDERLEY
Tribune Staff Reporter
madderley@tribunemedia.net
THE Democratic National Alliance will be holding its next convention at the end of the month, where all leadership positions will be open for election, interim leader Christopher Mortimer announced.
Mr Mortimer said he will "not be offering for election as leader" but will remain a party member and supporter. However, he declined to give specifics on other candidates for this position.
"There are a number of persons who will be offering, so I don't think we want to prejudice at this particular point in time, the process," he said on Monday. "The leadership process and the roles are open to all persons who are members of the party who are financial."
The convention will be held February 22-23 and will "articulate the DNA's plans for a 21st century Bahamas and chart the course for a nation where innovation is the norm and economic empowerment is a reality for our people."
Mr Mortimer made these remarks during a press conference held at the Courtyard Marriott yesterday.
Describing both the Free National Movement and Progressive Liberal Party as "two sides of the same coin", Mr Mortimer insisted the third party is the "only viable option for real change in our nation".
He noted the party's last convention was held in 2016, which was followed by a conclave in 2018. During this conclave, party leadership and members conducted a "post-mortem" of its poor performance in the 2017 general election. The party's founding leader, Branville McCartney, stepped down following that election.
"Our country is at a crossroad," Mr Mortimer said yesterday. "The Bahamian people voted out the (PLP) with the hopes that the (FNM) will be different. Unfortunately, they have proven us to be right in that they are two sides of the same coin with corruption, cronyism, nepotism, conflicts of interest and fiscal mismanagement being the order of the day during their first 20 months in office."
Mr Mortimer cited many perceived failures of the Minnis administration, including the increase in value added tax, the Oban Energies deal, the country being blacklisted by international groups, "(giving) a sitting Cabinet minister a contract for the main post office and more recently (being) chastised by the chief magistrate for the 'egregious' actions of two Cabinet ministers."
He further accused the FNM of being elected "without a plan" while saying the PLP has "no moral authority" to condemn the current administration.
"I think the Bahamian people will choose the DNA in the next election," Mr Mortimer continued.
He also reiterated the party's commitment to women and women's issues, noting in the last election the DNA "had more female candidates than any other party combined."
Mr Mortimer also highlighted the party's support of young people and encouraged them to "be the change that (they) want to see."