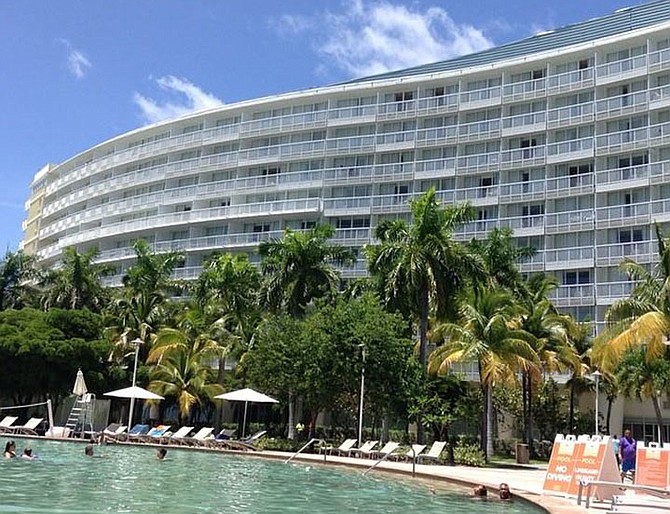 By NEIL HARTNELL
Tribune Business Editor
nhartnell@tribunemedia.net
Freeport's economy "won't look back" if Royal Caribbean's partnership with a Mexican group to develop mega cruise berths and buy the Grand Lucayan succeeds, Tribune Business can reveal.
The cruise line's tie-up with ITM, a developer of adventure-based theme parks and village-style destinations, was among the investment projects said to be under consideration by the Minnis Cabinet during its Freeport meeting yesterday.
The deal, which will likely have a greater economic impact that Carnival's $100m "Grand Port" project if it comes to fruition, would solve Freeport's tourism woes by developing the city into a sustainable long-term destination while also taking the troublesome Grand Lucayan off the Government's hands.
Dionisio D'Aguilar, minister of tourism and aviation, declined to comment when contacted by this newspaper about the ITM/Royal Caribbean proposal, but did not deny its existence or that it was discussed yesterday. "We were discussing a number of projects, but nothing I'm at liberty to discuss right now," he said.
Multiple Tribune Business sources, well-placed to know and speaking on condition of anonymity, suggested that the Cabinet discussions focused on whether to give the proposal an "approval in principle" to allow ITM to firm up its financing and potential project partners such as hotel operators.
They added that ITM, which has a strong track record of developing cruise-style destinations in its homeland, and locations such as the Dominican Republic and Maracaibo, had presented a proposal that was far superior to any other Grand Lucayan purchase offer submitted to-date.
"It's going to be big, very big," one source told this newspaper of ITM's proposal. "This is going to be the start of Freeport's turnaround. The next thing will be the harbour and the hotel. That will be within three to four months. Then we're off to the races.
"They're going to build four mega cruise ship berths down at the [Freeport] harbour and an adventure land park. The main thing will be the hotel, and they're going to build around the hotel. We will have these three things going on."
Visiting cruise ship passengers would be transported from the harbour to the Grand Lucayan and surrounding area, with other lines besides Royal Caribbean able to use the new berths.
Critically, the source said Hutchison Whampoa, which has management control and a 50 percent stake in Freeport Harbour Company, was behind the ITM proposal with both sides having seemingly reached agreement after three years of negotiations.
"I expect the Government will have approved this," the source added. "This is going to turn us around. Freeport won't look back after this. They've [ITM] done about six of these in Mexico now. They're very big.
"They're a group that is very professional and done it all before, so they will go to work immediately. It's very exciting. It's going to happen very quickly. All the work is done, they've spent millions, and the plan is put together. They have hotel partners and any kind of partner you want. These are beautiful guys."
Another contact, speaking on condition of anonymity, confirmed that they knew of ITM's proposal and that it was "very substantial" in terms of including both the harbour and Grand Lucayan.
"There's seems to be the most viable offer yet," they said, "in terms of cruise ships and airlift to the hotel. They seem to have their act together and no one else has so far. What they've proposed is two [parks] - one at the harbour and one at the hotel.
"There's a lot of moving parts on it that need to be tied down. We've got sparks, and while we haven't lit the fire yet, at least there's sparks. The cruise ship companies are building so many ships they have to find additional places. This is not going to take any business from anybody. It's got to take the additional passenger load they have."
The source added that ITM's proposal offered the prospect of creating critical tourism mass in Freeport, which the destination has not had for many years, while the mix of air and sealift would help combat the high Grand Bahama International Airport costs that are a frequent complaint of airlines.
"If you begin to bring in more people through the airport it makes it more viable," they said.
Another contact argued that the ITM proposal "could be dynamite" and "the answer to the prayers a lot of people and be a latent touristic explosion for Grand Bahama. It could be the best example of disruptive creation that totally reconfigures the island's tourism scene".
The Government will be especially eager to announce further good economic news for Grand Bahama, not least because it pledged to focus on revitalising the island's economy upon taking office and during its election campaign.
It will also be keen to limit taxpayer exposure to the Grand Lucayan, which carried a $65m purchase tag and other associated costs that have continued to mount as it seeks a buyer for the property. The deadline to receive bids is February 15, with a decision on the preferred bidder due by end-March 2019.
The Government injected $45.4m into the Grand Lucayan resort, including $13m to cover its operational costs, during the six months to year-end 2018, exposing the scale of the potential drain on Bahamian taxpayers if the government is unable to realise its goal of selling Freeport's "anchor property" by the second quarter.
"On the equity side, developments continued to be dominated by the government's investment in the special purpose vehicle, Lucayan Renewal Holdings, formed to acquire the Our Lucaya properties in Grand Bahama during the first quarter of the fiscal year," the Government's latest fiscal report said.
"For the first half of fiscal year 2018-2019 these investments totaled $45.4m—reflective of the original $32.4m in equity contribution alongside an additional $13m, for operational expenses."