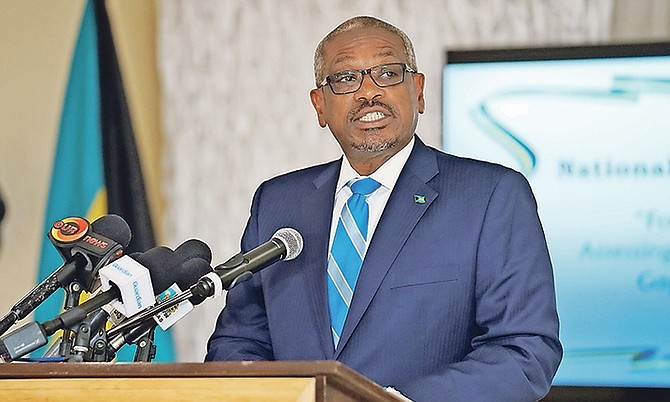 By AVA TURNQUEST
Tribune Chief Reporter
aturnquest@tribunemedia.net
WHILE the government has received proposals from "quite a number" of investors interested in Grand Bahama, it remains unclear what the future holds for the controversial Oban deal.
Prime Minister Dr Hubert Minnis yesterday declined to comment on the proposed $5.5 billion oil refinery and storage terminal for Grand Bahama, telling reporters the matter was not on the radar for his Cabinet briefing on the island.
When asked for an update on the project, Dr Minnis said: "Listen I'm talking about futuristic - Oban is not…listen man, you hear me just open a project last night that I know gonna work. You hear I'm going to Cabinet today to discuss another project that I know gonna work. So I ain't talking nonsense today, and don't twist my words when you go on Cable 12 now."
Cabinet ministers travelled to Grand Bahama to participate in a Monday night information meeting for Carnival's proposed "Grand Port", which is expected to create 1,000 direct and indirect jobs during development.
Addressing media ahead of yesterday's Cabinet meeting, Dr Minnis reiterated his belief that the project will have a catalytic impact on the island's flagging economy. 
He hinted there were also several other projects on the drawing board for Grand Bahama for Cabinet to review; however, Dr Minnis brushed off reporters when asked for an update on the future of the oil refinery.
"Oban is not on the radar this morning, we're dealing with other issues this morning."
He also said: "We have several projects to discuss as it relates to Grand Bahama, to really take Grand Bahama a little further and all the Cabinet ministers were here (Monday) night. This would be the most appropriate place to have the Cabinet meeting especially to deal with Grand Bahama issues."
Dr Minnis said: "Traditionally, the hardest thing in getting an economy started is trying to find that first investor and traditionally speaking, historically, once you find that first investor for some reason everything else just follows, you find lots of other investors subsequently coming. This morning we have to deal with quite a number of investors who want to invest in Grand Bahama, excellent projects.
"Some of what would be discussed today at Cabinet would be surprised, so I can't tell you," he told reporters asking for more details about prospective investors.
The Oban deal was inked by the government on February 19 last year and has been dogged by controversy.
Environmental organisations that took issue with the lack of an environmental impact assessment (EIA) given the project's risk factors. There were also concerns about the background and qualifications of some Oban representatives.
The fallout prompted an admission from Dr Minnis last March that there were gross missteps in the government process.
Last month, Alexander Grikitis, president and managing director of operations at Oban Energies, confirmed that an EIA had been completed. He added Oban would be meeting with the government on January 7, however that meeting did not happen.
Asked yesterday when renegotiations will take place with Oban, Labour Minister Dion Foulkes said the government is in talks with the company's new leadership team.
"There is a new president and chairman of the board, and we are in discussion with them to have fixture for a date to begin renegotiation for the HoA, but we have not settled on that date yet," he said.