By Rashad Rolle
Tribune Chief Reporter
rrolle@tribunemedia.net
THOUGH it has been more than a year since Douglas Ngumi was released from the Carmichael Road Detention Centre, yesterday the Kenyan national broke down whenever his lawyer mentioned how long – six and a half years – he had spent in the facility despite being ordered to be deported.
Through occasional sobs Mr Ngumi, 47, testified about how he was tied to a table and beaten for hours with a PVC pipe, teargassed during raids by immigration and defence force officers and later detained in the Princess Margaret Hospital for six months because of the "full-blown" tuberculosis he contracted during lockup.  
Attorney Fred Smith is seeking damages of about $1 million for him. If awarded, it would be among the largest payouts ever in an unlawful detention case, rivaling the more than $1 million paid to Atain Takitota, a Japanese man unlawfully detained in prison for eight years from 1992 to 2000.
Mr Smith alleges Mr Ngumi was assaulted, arbitrarily and unlawfully detained, falsely imprisoned and had his constitutional rights breached. Though the trial is incomplete, the Office of the Attorney General failed to submit evidence in the case, leaving Justice Indra Charles to suggest she has to now decide how much – not if – damages should be awarded. 
Mr Smith said the case is identical to numerous ones to arise recently, with more than three trials scheduled to start later this year.  
Mr Ngumi, once a jitney driver in Kenya, came to the Bahamas in 1997. He said he had a relative who attended the College of the Bahamas. He was granted a work permit in 1998. In 2000 he married Gricilda Pratt, a Bahamian citizen he had met in Turks and Caicos. He testified that his wife reluctantly applied for a spousal permit for him in 2001.
"She thought that if she gave me any documents I would separate from her," he said. "She thought it wasn't convenient for her to give me the documents."
He never got a spousal permit. He was deported to Cuba in 2002. He received a work permit in 2005 but his application for renewal was denied. Between 2006 and 2011, he said he frequently travelled to Cuba, the Dominican Republic and the Bahamas to avoid overstaying his allotted time and running afoul of Bahamian law.  
Nevertheless, in 2011 immigration officers arrested him, leading to the worst period of his life. "Y'all don't know what it is I go through," he cried, his testimony was suspended as he tried to compose himself.
Beatings
Among the "numerous" beatings he said he received, one in 2011 was recounted in detail. "I was taken out of the detention centre and carried to the kitchen and I was beaten with a PVC pipe by an officer who thought he controlled the detention centre," he said. "I was tied up with handcuffs under the table and he beat me with PVC pipes (on) my back...It was so sore some people had to wipe the puss out of my back. The next days after they were using tissue taking the puss out my back. I wasn't taken to the hospital."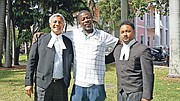 He continued: "This man wasn't stopping. I don't know what happened to him but he was just upset with something. He was just beating and beating and beating. Somebody had to tell him, 'we gon' call the police for you if you don't stop beating him.'"  
Mr Ngumi damned the conditions of the detention centre.
"If one dorm supposed to hold 50 people, it held 500 people," he said. "The bathroom wasn't clean. The (toilet) never used to flush. We used to drink pump water. They just started bringing (better) water for us, in 2016 or 2017. Before that we had dirty water. When you put it in the bottle, you could see the iron rust in the water. We had people who got stones. Food, we used to eat mashed potatoes with corned beef for breakfast, lunch and dinner."  
Mr Ngumi said over the years he contracted pink eye and a "scratching disease." He said during his detention he "was the person who served lunch, dinner and water."
"I used to work for the detention centre (without pay)," he said. "Government cars, I used to wash them. I used to help Mr Peter Joseph, the officer in charge of the detention centre. They would come and say 'Mr Kenyan, let's go.' I never refused. I wanted my freedom. I never knew which way it would come. I worked for them because I thought one day they would feel sorry for me and release me." 
Mr Ngumi recalled three occasions when teargas was used on detainees. "When you had too much people coming from the boats and Haitians and Cubans fight, they used to throw teargas on all of us," he said. "Nobody used to be separated. If you can't breathe, they don't help you. They just say 'help yourself, help yourself, throw water (on yourself).'" 
Detention
According to court documents, Mr Ngumi was charged in 2011 with overstaying and engaging in gainful occupation contrary to the Immigration Act. Prosecutors withdrew the latter charge. Mr Ngumi pleaded guilty to overstaying. Though the magistrate ordered that he be deported to Kenya, his detention continued. He was later charged with possession of dangerous drugs in 2013, accused of having four grams of marijuana. He said the drugs were planted on him and noted he had no family to bring him drugs in the detention centre.
"I pled guilty because the judge told me you have one option, you plead guilty, you go back to the detention centre, you plead not guilty, you go to Fox Hill (prison)," he said. "I plead guilty for that reason." After pleading guilty, the judge took into consideration the time he had spent in custody. He was cautioned and the judge recommended that he be deported to Kenya. His detention persisted for another four years instead. 
Mr Smith filed a habeas corpus application on behalf of Mr Ngumi on July 26, 2017 but before a hearing took place the Kenyan was released on August 4, 2017. The former detainee was concerned for his health.
"I was coughing and I was looking so bad and everybody used to tell me 'you look bad and you sound bad,'" he said.
He said he went to the Carmichael Road Clinic where he was diagnosed with tuberculosis. "(Doctors) gave me a directive to go to PMH because (it might be contagious)," he said. "I did that. They gave me medicine but within two, three weeks they say no, it is a full-blown so I have to be contained. They bring the police and the ambulance and they locked me up with handcuff and they say I have to stay in the hospital for the rest of my time. I was taking medicine and the result is I'm free of tuberculosis." 
Mr Ngumi said he was homeless for several weeks, his lawyer referring to him as a pauper. 
He said he now lives in a "room" at someone's house in Fox Hill. Immigration officials have refused to grant him a work permit so he is unemployed, he said. Mr Smith asked him to reflect on his life.
"I'm nothing," he said, almost in a whisper. "My life is not normal. I can't work. I have no identification. I have nothing in my life." His identification documents, including passport and driver's licence, were lost in the detention centre.  
No representative for the Attorney General's Office was present for most of yesterday's hearing. Noting ample notice of the hearing had been given, Justice Charles proceeded with the hearing without the government's legal representatives. Near the end of the session, a government representative arrived and requested that the case be adjourned until she could examine Mr Ngumi's transcript to prepare for cross-examination. Justice Charles rejected the request but adjourned the case to address other matters before her.
Justice Charles asked the Crown's representative to consider reaching a compromise with Mr Smith, one that would result in reduced damages in exchange for concessions such as a work permit for Mr Ngumi.
"The most you could do is lower the damages," she said. "I don't know how you can contradict much of what he said with no evidence submitted by your side."