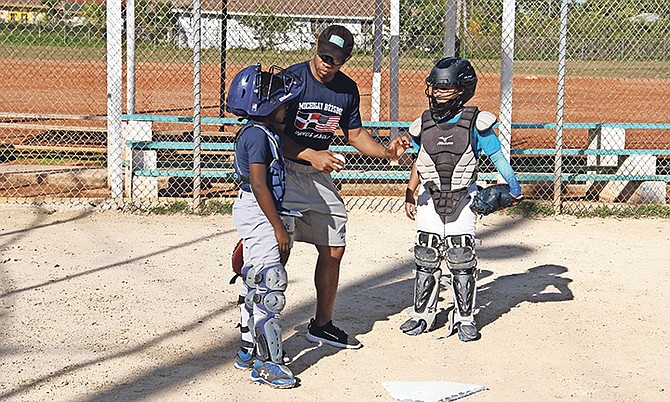 By RENALDO DORSETT
Tribune Sports Reporter
rdorsett@tribunemedia.net
Antoan Richardson continues to receive opportunities in the front offices of Major League Baseball organisations and will re-join the club where he began his professional career.
Richardson was hired as a field coordinator for the San Francisco Giants, tasked at overseeing on-field development throughout the organisation.
In December, Richardson was hired as an outfield coordinator in the Player Development Department for the Toronto Blue Jays but ultimately decided to take the opportunity to join the Giants.
"It's never easy leaving people you love and care about and that's the people that I encountered within the Blue Jays organisation, they have invested in me as a person and their humility and love were on full display as they were very supportive and encouraging as I battled through the decision," he said in a press release.
"There are always multiple feelings that I go through in these moments. The one that stands out here is gratitude. Grateful for God's grace, thankful to the Jays for helping prepare me for what's next and that the Giants choose to entrust me with being a part of this dynamic developmental process.
"Ultimately, I am a part of a team and the goal is to help each other grow, especially in areas we have identified as growth points.
"As we do that, we will have and opportunity to elevate each other and ultimately serve the organisation."
Giants pitchers and catchers will report for spring training on February 14 with full teams reporting February 19.
Since his retirement, Richardson has spent most of his time travelling locally and internationally speaking to and encouraging young people on their life journeys. His heart has been entrenched at home, where he volunteers his time, mentoring youth in The Bahamas through Project Limestone - a non-profit organisation he established.
He spent his entire 12-year professional baseball career as an outfielder throughout several organisations before he retired in March 2017.
He followed Andre Rodgers, Wenty Ford, Tony Curry, Wilfred Culmer and Ed Armbrister, to become the sixth Bahamian player to advance to the major leagues.
After matriculating through Palm Beach Community College and Vanderbilt University, Richardson was drafted four times before he finally signed with the San Francisco Giants in 2005 to begin his professional career. In 2011, he was promoted to the major leagues with the Atlanta Braves. He also played for the New York Yankees in 2014 and concluded his career with the AAA Oklahoma City Dodgers in 2016.
"Absolutely beautiful to see the growth of the game. We have to thank the leagues around the country for facilitating a place for young people to be involved in the sport. You see the local minor league baseball players succeeding on the field and making baseball an exciting experience. It's a joy to watch," Richardson said.
"Most thrilling for me is to see the nine-year-old with confidence to dream and sparkle in their eye knowing it's possible to achieve."