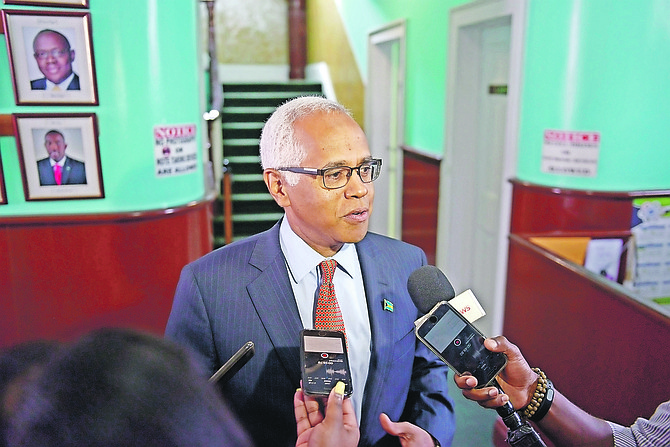 By NEIL HARTNELL
Tribune Business Editor
nhartnell@tribunemedia.net
The government's plans to partner with the private sector on Family Island airport upgrades worth $200m have been "complicated" by land woes, a Cabinet minister has revealed.
Dionisio D'Aguilar, minister of tourism and aviation, told Tribune Business that North Eleuthera and Long Island's Deadman's Cay airport were just two locations where the absence of legal boundaries and site descriptions have to be overcome before redevelopment can take place.
Further obstacles to airport expansion stemmed from needed land either being privately owned or in commonage hands, meaning that the government and/or private investors teaming with it on a public-private partnership (PPP) faced long and complex negotiations to obtain essential real estate.
Disclosing that the Department of Lands and Surveys, and the surveyor-general, were working to map out the legal boundaries, Mr D'Aguilar said the ad-hoc, unplanned evolution of many Family Island airports needed to first be "cleaned up" for investment to take place.
Tribune Business previously revealed that the government was seeking to "cap" the costs of redeveloping the Deadman's Cay airport at $10m, and the minister disclosed: "There's a number of issues with that airport which makes it difficult to deal with. There's land issues around the airport.
"Unfortunately, in the Family Islands many of these airports kind of evolved. Somebody put an airstrip down, and sometimes it was on crown land and straightforward. The airport evolved around the airstrip. No one was concerned about planning, and the land the airport was on - whether it was privately or publicly owned. It just evolved.
"Now, you go back and look at developing these airports, and are considering PPPs, one of the underlying issues is what are you going to be entering a PPP on? In some instances there's no legal description of these airports; it's just there," Mr D'Aguilar continued.
"It isn't specifically marked on a site plan what encompasses the airport. There never had to be that focus on this issue. In the case of Long Island and Deadman's Cay, there's a number of houses, a number of businesses that end up having to traverse the runway to get to the main road. It's not clean.
"It needs to be worked through to clean up these land issues so you can expand the footprint of the airport to accommodate a potentially expanded runway, and you don't want people to cross it. That's not clean and needs to be cleaned."
Such real estate woes need to be dealt with rapidly to prevent them delaying, and even undermining, much-needed upgrades at many of The Bahamas' 28 Family Island airports. The planned improvements are vital to opening up these locations to bigger, more frequent flights that can grow commerce and their tourism economies, helping to attract fresh investment and reversing the depopulation as persons migrate to Nassau in search of work.
Long Island, especially, feels economic opportunities, jobs and growth are being stifled by the lack of an airport that can receive regular international flights and meet the standards set by the International Civil Aviation Organisation (ICAO).
The recently-issued tender document, seeking architect and engineering services for the revamp of Deadman's Cay, seeks to achieve these objectives. The redeveloped airport is to be constructed at the existing terminal and runway locations.
Mr D'Aguilar said the Deadman's Cay request for proposal (RFP) was part of the Government's efforts to "tackle the tough issues" surrounding airport redevelopment, and added: "North Eleuthera is even more complicated because it lies on commonage land.
"If you want to expand that airport it requires negotiations with the commonage. It's not all Crown Land. It's not an easy, straightforward thing to do. You have to engage surveyors, get lawyers to develop a description of the property and what it encompasses."
Commonage land is typically held by multiple shareholders who each own a small piece, making it extra difficult to negotiate any acquisition or lease of the property. North Eleuthera is one of the airports identified by the Government as "Tier One", meaning it is among the most important and in line to be upgraded first. Initial estimates were that $40m of investment was needed.
With the Government's limited annual Budget making it unlikely that it will have the necessary funds to carry at multi-million dollar upgrades at several airports by itself at the same time, Mr D'Aguilar said it had little choice but to attract private investors and capital.
"Investors will want to know if there is a detailed definition of this land that encompasses the airport," he told Tribune Business. "In many instances we don't have that. That's what complicates the matter somewhat.
"The first thing anyone interested in investing in an airport will say is: What's the legal definition of what we're talking about? Where does it sit? We're moving forward. Lands and Surveys and the surveyor general are very much engaged with it, and are going through the process of surveying the land. It's all moving."
Mr D'Aguilar said such real estate complications had "not held up Exuma in any way at all", describing that island's airport as "the furthest along" and "the next one on the list" to be enhanced.
He added, though, that Odyssey Aviation's "relatively brand new building" in Exuma "sits right in the middle of where the new terminal is going to go" and will have to be "demolished" after just five to six years in existence. The Government is "approaching" the fixed base operator (FBO) on this issue.
Pointing out that airport investments had to be linked to potential returns, Mr D'Aguilar said of the Government's position. "Obviously we don't want to spend a fortune.
"We want to direct the public's money to where it will get the best returns. Every project we have to review to see whether it makes sense. It's probably why that cap was discussed. Let's see if we can get a brand new airport for that number [$10m] at Deadman's Cay. We'll review the options and see if it works."