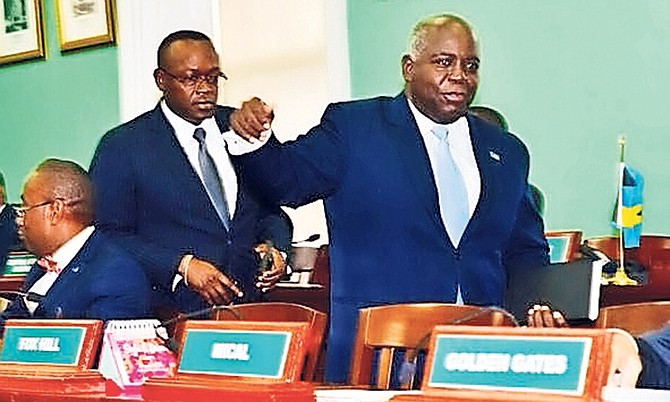 By KHRISNA RUSSELL
Deputy Chief Reporter
krussell@tribunemedia.net
PROGRESSIVE Liberal Party leader Philip "Brave" Davis announced yesterday the opposition will boycott the House of Assembly in protest of "tyrannical attitudes" in government determined to use prosecutorial powers of the Crown to target PLPs.
Mr Davis said the party will not rest until these practices are forever vanquished from society, adding actions at play were not politics, but its criminalisation.
Mr Davis also hit out at the manner in which the case against former Public Hospitals Authority Chairman Frank Smith, who has since been acquitted, was handled. He did not say how long this boycott was expected to last.
"I announce with no pleasure that the PLP parliamentary caucus will boycott the House of Assembly for a period in protest to mark the seriousness of where we find ourselves as a nation. We will not rest until the tyrannical attitudes and practices are forever vanquished from this society," Mr Davis said.
His press conference at PLP headquarters came shortly after all members of the opposition exited yesterday's morning session of the House. This followed a heated row that erupted when the Cat Island, Rum Cay and San Salvador MP attempted to raise the matter in Parliament.
"We have always had a very serious give and take in our politics," Mr Davis said at PLP headquarters. "All Bahamians know politics is not for the faint of heart. What we are seeing today isn't politics, it's the criminalisation of politics and the erosion of our democracy.
"The current government appears determined to use the prosecutorial powers of the Crown to go after members of the opposing political party at whatever cost. That's not democracy, that's not justice, that's not the Bahamas – or at least it never has been until now."
He also said: "The case of Frank Smith has shocked the country. . . Who could dare to defend such a thing?"
He said instead of the government announcing an independent investigation or the firing of the two Cabinet ministers cited by a judge for their "egregious" conduct related to the Frank Smith matter, the Crown is appealing the case. As the House began yesterday, Mr Davis stood and questioned what order of businesses would be followed. He said he expected the order pertaining to the second Wednesday in the month would be followed.
Speaker Halson Moultrie called this a "preemptive strike", adding a communication by the Speaker was next on the agenda, but it was interrupted by Mr Davis' question regarding the agenda.
Bamboo Town MP Renward Wells, who is leader of government business, then moved a motion that the House resume its normal order of business outside of the second Wednesday.
Mr Davis then attempted to raise concerns, but he was not allowed as Mr Moultrie said he appeared to be attributing improper motives to the side opposite. Mr Davis said he was drawing attention to their "abuse of power".
The Speaker said this was in contravention of the rules. After some back and forth with several members, Mr Moultrie repeated he would not allow the allegations to be made and ordered Mr Davis' controversial statements to be struck from the record.
"Honourable member if you wish to proceed along that line then what I would request is that you produce the evidence to the chair that would substantiate the allegation. I am not going to permit you to stand on your feet and make an allegation that later on we might find was an unsubstantiated allegation but it is already gone into the public airwaves I am not going to allow that to happen," Speaker Moultrie said.
However, Mr Davis said he could state who was being targeted and stated what is happening to them. "I could say how ministers of this government who should be resigning now – Elizabeth (MP Dr Duane Sands) and Mt Moriah (MP Marvin Dames)," Mr Davis said.
This triggered shouting from seated members on both sides. Mr Dames also attempted to stand, to make a statement, but Prime Minister Dr Hubert Minnis could be seen motioning to him to resume his seat.
Mr Moultrie then put all members on notice that should disruptive behaviour and disrespect of the chair persist, certain action would be taken.
"I am not going to permit it and that applies to all members," he said. He then ordered the House to suspend for five minutes.
When the House reconvened, members continued to bicker even as Mr Moultrie made his way to the chair.
He said the chair took the discretion to permit Mr Davis to address Parliament in good faith with the understanding that he would not raise a contentious matter, but this was not the case.
He said the House would proceed with its business and no member would be allowed to raise any matter outside of the agenda especially anything that was controversial.
He said the rules permit that advance notice should be given in these cases.
Mr Davis then attempted to speak, but he was not allowed.
Each of the four opposition members of Parliament then exited the House as majority members heckled and shouted.
Editorial Comment and Jamaal's View - Page 4