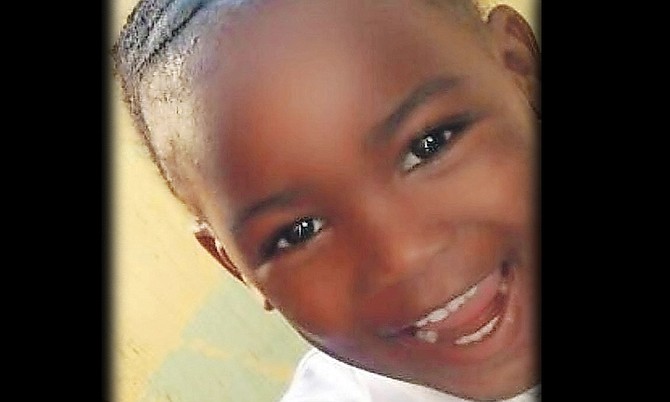 By KHRISNA RUSSELL
Deputy Chief Reporter
krussell@tribunemedia.net
A THREE-year-old boy, abducted in a "domestic dispute" over the weekend, was left frightened and alone outside a Fox Hill washhouse several hours later, sparking a manhunt for two women believed to be the assailants.
"Police will continue to look for those responsible," Superintendent Shanta Knowles told The Tribune yesterday.
Shavar Bain Jr was taken from outside his home at South Beach Estates as he rode a bicycle shortly before 6pm Saturday.
In response to media inquires about the missing child roughly two hours after the abduction, police informed media via What'sApp that they were investigating a report of a missing child.
They said a witness to the brazen kidnapping stated he saw the toddler shortly before 6pm on Saturday taken off his bicycle by two women, who put him in their car and sped away from the scene.
By the time media inquires were answered it was 1am Sunday and the child's photograph had been viral on social media for several hours.
This sparked questions about the functionality of the Mandatory Action Rescuing Children Operation (MARCO) Alert, which was re-launched last July and raised concerns about the handling of missing children's reports.
However, despite the delayed communication from police, National Security Minister Marvin Dames was adamant yesterday, police were on top of the incident from the moment they received the report.
He confirmed the system was in the testing phase, while suggesting it had virtually no bearing on the outcome of this situation.
Mr Dames said the kidnapping stemmed from a "domestic dispute" and was not a random incident of child abduction.
He said: "The police were on top of that from yesterday and it seems that that matter was, from the investigation so far, that there may be some domestic connection with that. It doesn't appear from their investigations thus far that it's something where the child was picked up randomly by someone.
When his attention was drawn to the lag in police informing the public Mr Dames said: "Well the police were on it from the moment it was reported and so they were actively on it. They basically knew the direction in which they were going and it ended."
"We're in this era of social media, but the police were on top of that incident from the time it happened and they brought it to a resolution as quickly as possible."
But police weren't the ones to find Shavar.
He was dropped off shortly after 7am Sunday right outside of Sunrise Wash house at Fox Hill and Joe Farrington Roads.
The next police update came from police around that same time.
"Police wish to inform that shortly after 7am today (Sunday), a young Shavar Bain was dropped off at a wash house on Joe Farrington and Fox Hill Roads. He is presently in police care and en route to hospital."
Shavar Jr had no visible injuries but was frightened following the ordeal, police said.
Social media reports were that a man saw a silver car drop off a boy there. He then brought him inside where someone in the establishment contacted police. He was also said to be dressed differently from the day he was abducted and wearing only one shoe, according to those reports.
Relatives further confirmed that Shavar Bain Sr had been taken into custody, adding police told them this was "protocol".
It is unclear whether he was released yesterday and the circumstances of the domestic dispute have not been made clear.