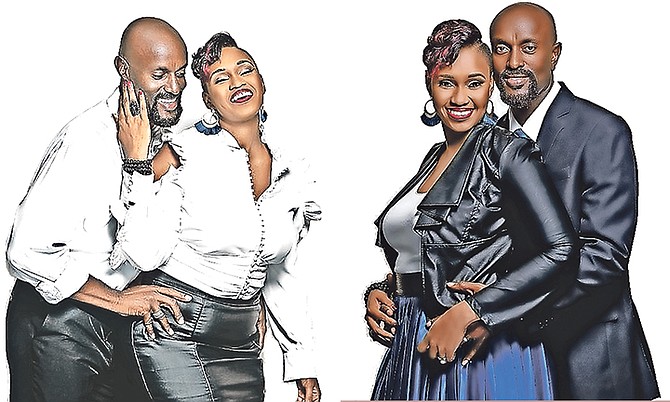 By JEFFARAH GIBSON
Tribune Features Writer
jgibson@tribunemedia.net
Married for half a decade, Glenn and Keshelle Davis say they have a successful relationship because they were able to master the art of vision planning and recognise the importance of continuously finding purpose in the interconnected lives they agreed to when they said "I do".
Glenn, a business and marketing professor at the University of the Bahamas, and Keshelle, a corporate and business trainer, celebrated their anniversary on February 15 and recently hosted a vision board party for couples to share what they have learned over the years.
Glenn and Keshelle have no children together, but what they do have is a shared life and experience navigating a union that proved difficult during the first two years of marriage.
Today, the couple enjoy what they describe as a beautiful marriage, and the challenges that once plagued them are "few and far between."
In their Q&A with Tribune Woman, they were asked about their dating and courtship process, their vision for their marriage and more. Here's how they responded:
On dating and courtship
Q: How did you meet?
Keshelle: "In the aisles of Bahamas Faith Ministries. Glenn was an usher and it was the first time in a long time I arrived early to church. While we were waiting for the service to begin, Glenn approached me and started a conversation…the rest, as they say, is history."
Q: When did you know you were in love?
Glenn and Keshelle: "Both of us knew by the third date. Over those first three dates we had deep conversations and asked lots of key questions that led to a strong connection and 'knowing' that we were in love."
On vision
and love
Q: Is being in love enough of a reason to join in holy matrimony with another person?
Glenn and Keshelle: "No. We both believe that other critical factors include shared values, goals, and potential future growth."
Q: How important is having a vision for your marriage?
Keshelle: "Extremely important. Vision is a valuable asset and should be the first step in establishing a marriage. On the third date, I asked Glenn what was his future vision for his life and his answer played a key role in my acceptance and interest of him. We believe in vision so much that we are hosting a vision board event for couples."
On compatibility
Q: In which key areas should couples be compatible in order to have a successful union?
Glenn and Keshelle: "The core include: First, spiritual beliefs; having the same spiritual foundation is critical. Second, vision: You have to be going in the same direction in terms of goals and plans. And third, mindset: Having similar maturity levels and philosophies are important.
Q: How do you relate to one another?
Glenn and Keshelle: "At this stage in our marriage we understand and appreciate each other's differences and use it in a positive way. We are also intentional about supporting each other's goals and dreams and ensure that we push each other to not settle for the status quo. We are both achievers and are big on learning and growth, which is a strong foundation for how we relate successfully to each other."
Q: What types of activities do you do together?
Glenn and Keshelle: "We have a weekly date and movie night. We spend lots of time walking the beach together, we teach and talk about teaching together, certain fitness activities like running, and fun/run/walk events et cetera. We love trying to new things and doing challenges together. For example, last year we did a 21-day vegan challenge together. We fast together. We read relationship books together. And lastly, we have a favourite game we play together often called Shoutrageous!"
On problem-solving and goal-setting
Q: What was the biggest challenge you faced in your marriage and what has it taught you?
Glenn: "One of the biggest challenges we faced was communication and trying to change each other to what we wanted him/her to be; not understanding our differences and how they could work for us and not against us. It caused lots of strife and anger, especially in our first two years together. Thanks to our commitment to make things work and our growth-oriented mindset, we were intentional about finding a solution. Things that helped us were relationship books like 'The Five Love Languages', taking personality tests to learn and appreciate our differences, and studied strategies to use to improve our communication."
Keshelle: "I should also say that thanks to the gift of the Holy Spirit in us, and great teaching from Dr Myles Munroe and Pastor Richard Pinder, we were able to get through those difficult times at the beginning of our marriage. Regarding in the future, we believe that it takes consistent growth and focus on each other and a decision to keep our marriage a top priority to overcome the obstacles that may come our way. We have grown tremendously over the years and can say that we truly enjoy our marriage and the challenges are few and far between."
Q: What are your goals as a couple for 2019?
Glenn and Keshelle: "We have several: 1. We want to do more training and teaching together – thus our first official event together (recently). 2. We plan to run our first half marathon together in November. 3. We will take our second one-month summer vacation together, this time in Europe. 4. We will both launch our first (Glenn) and third (Keshelle) books in 2019. There are several others. Also, we select a 'word of the year' every year and in 2019 our word is 'impact' , which carries a variety of meanings for us."
Q: What is the single most important thing for a relationship to be successful in your view?
Glenn and Keshelle: "We both agree that trust in paramount. It is the foundation that everything else is built on."