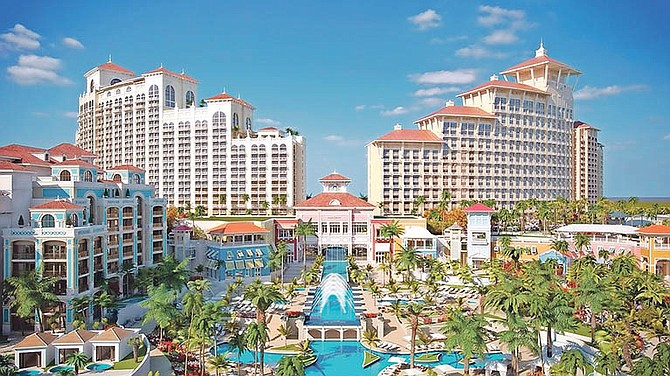 By NEIL HARTNELL
Tribune Business Editor
nhartnell@tribunemedia.net
The Nassau/Paradise Island hotel industry has "rebounded with gains not seen for ten years", it was revealed yesterday, as room revenues closed 2018 up 34 percent year-over-year.
Robert Sands, pictured, Baha Mar's senior vice-president of government and external affairs, told Tribune Business that last year's momentum had been maintained through "a very strong 2019 first quarter" with most tourism industry participants confident these trends will hold for the full year barring any hurricanes or unanticipated economic shocks.
With average daily room rates (ADRs) and revenue per available room (RevPAR) ahead of 2017 comparatives in eight and seven months, respectively, of 2018, Mr Sands said "all parties are benefiting" from the increase in visitor numbers and spending.
He warned, though, that there remained "quite a lot of work to do" to sustain the growth momentum in The Bahamas' largest industry and biggest GDP contributor, adding that hotels by themselves "don't make the destination".
Calling for the sector's "holistic development", the veteran hotelier said The Bahamas needed to ensure downtown Nassau was revived and Lynden Pindling International Airport (LPIA) able to cope with peak season passenger volumes, in addition to "uplifting" service levels and the guest experience.
Mr Sands spoke out after newly-released Ministry of Tourism data, obtained by Tribune Business, showed that Baha Mar's full opening had combined with improved US economic growth and confidence to produce the first marked rebound since the 2008-2009 recession.
The Nassau/Paradise Island hotel industry's 2018 performance was also boosted by the weak late-year comparatives from 2017 due to Hurricane Irma, which deterred travel to The Bahamas as well as the wider Caribbean for several months. This nation also benefited from the damage that storm and others inflicted on other regional destinations, which resulted in travellers switching their vacations here.
The sector's room revenue, room nights sold and air arrivals rose by "double digit" percentages for all months except March 2018, when the latter "only" grew by 9 percent. Nassau/Paradise room revenues closed last year up by 34 percent, while room nights sold were ahead by 28 percent and 19 percent, respectively.
"I think to put it in context, we see significant growth in stopover visitors to the destination," Mr Sands told Tribune Business of the data. "The numbers are getting back to levels seen maybe 10, 20 years ago.
"I think that augurs well. I think it's important that not only was New Providence strong, but a lot of the Family Islands - event those in the south - enjoyed good growth. It sends the message that the tourism industry is rebounding, and making steady progress towards achieving great gains - the likes of which we've not experience in the industry for probably the last 10 years.
"I think overall the numbers are very, very encouraging for the tourism sector here in The Bahamas," he continued. "Based on the Bahamas Hotel and Tourism Association (BHTA) meeting last week, all sectors of the industry are reporting a very strong first quarter, which sets the foundation for the year and people are very optimistic the trends will continue for the full year barring any unforeseen catastrophes and the like."
The Nassau /Paradise Island hotel sector's average ADR closed at $250.57 for 2018, as opposed to $239.26 the year before. Average daily room rates were higher in eight out of 12 months, including for the entire first quarter winter season and Christmas period, and only slipped behind 2017 in the summer months.
Similarly revenue per available room (RevPAR), which is a key indicator of hotel performance, stood at a $154.60 average for the full year as compared to $145.34 in 2017. While its performance was slightly more uneven, it finished ahead of prior year comparatives for seven out of the 12 months.
Mr Sands agreed that the ADR and RevPAR data provided further evidence that fears Baha Mar's full entry into the market would spark a "price war" with Atlantis were unfounded. There had been speculation for many years that the two mega resorts would split, rather than grow, the high-end visitor market, resulting in "cannibalisation" and a "race to the bottom" on rates.
The Ministry of Tourism data, Mr Sands suggested, showed the opposite was occurring. "It sends the message that incremental business is accreting, all parties are benefiting, and that speaks volumes to what's happened in the marketplace," he told Tribune Business.
The Baha Mar executive added that there was "no question in my mind" that the resort industry's promotional spend, together with the Ministry of Tourism's just-launched Fly Away promotion spearheaded by rock icon Lenny Kravitz, were "propelling The Bahamas' equity in the marketplace and beginning to pay dividends for the destination".
Still, Mr Sands conceded that "tremendous opportunities for growth" also present challenges for the tourism and hotel sector, including securing sufficient airlift to fill available hotel rooms and improving the infrastructure that underpins the industry.
He added that "offering value for money, good service levels and continuing to exceed visitor expectations as they come to the destination" were vital if The Bahamas is to maintain its current tourism momentum.
"It's taken us a long time," Mr Sands said of the industry's rebound, "and I think there's still quite a lot of work to be done. Certainly, we have to pay attention to the ability of a new airport that it can manage all the volumes of passengers coming in at peak times.
"Hotels, as a destination in and of themselves, don't make The Bahamas. We have to ensure the holistic development of island economies, the development of downtown Nassau and all aspects of the tourism sector and all players in tourism to ensure we holistically uplift the product offering and service to the visitors and guests."
Away from Nassau/Paradise Island, Grand Bahama's hotel sector showed modest improvement in a year where it was not up against like-for-like comparatives that included a fully open Grand Lucayan prior to October 2016.
The extent of the task facing that resort's purchaser is highlighted by the fact that the island's average daily room rate and RevPAR figures, at $69.50 and $38.76, are less than one-third and one-quarter, respectively, of the same benchmarks set by their Nassau/Paradise Island counterparts.
Grand Bahama also enjoyed only modest improvement in its room revenues, air arrivals and room nights sold, which were all up by "single digit" percentages compared to 2017 figures.
"Room revenue did not increase between the months of July and October 2018 for Grand Bahama because there was a decline in the combined ADR for these four months compared to the same period of 2017, and in some of these months room nights sold also declined," the Ministry of Tourism said.
"However, room revenue for the hotels in Grand Bahama increased by 4 percent by the end of December year-to-date 2018, and room nights sold increased by 2 percent."