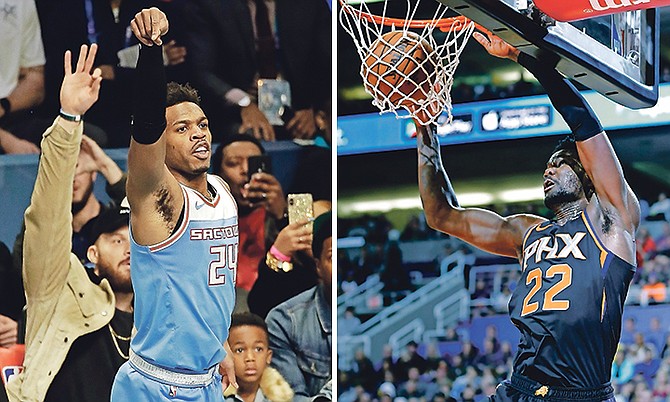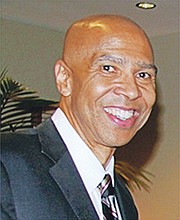 By RENALDO DORSETT
Tribune Sports Reporter
rdorsett@tribunemedia.net
BAHAMIAN basketball icon Mychal "Sweet Bells" Thompson said the country can look forward to the day when both Buddy Hield and Deandre Ayton are regular participants in the NBA All-Star Game.
The first Bahamian drafted into the NBA and two-time champion, Thompson said he had a great sense of pride watching both Hield and Ayton compete over the weekend, and of course to see his son Klay make his fifth appearance in the All-Star Game.
"This will probably be the last year we will have the All-Star Game for a while without Deandre Ayton or Buddy Hield in it, because those two young Bahamians are coming up fast. It just shows you the great future the Bahamas has in basketball and just to be a part of this is a blessing," Thompson said.
"I'm so proud of the way Klay represents himself, the Bahamas and the Golden State Warriors."
Like all Bahamians watching Statefarm Saturday night, Thompson said he was fixated on the MTN Dew Three-Point Contest as Hield made a run toward the title.
Hield reached the championship round but finished third behind second place finisher Stephen Curry of the Golden State Warriors and eventual champion, Joe Harris of the Brooklyn Nets.
The third year Kings guard brought fans to their feet with his 26 points in the first round, which topped the leaderboard ahead of Harris (25) for a brief moment before Curry made 27.
Hield posted 19 points in the championship round while Harris topped the field with 26 and Curry finished with 24.
"I was so proud of him, I tweeted out 'Yea Buddy 242 Forever Baby.' I thought he was going to be able to win the finals," Thompson said.
"He's just showing the rest of the world. He's kind of hidden out there in Sacramento, people don't really know him that much but he came here to put himself on the map and show what a great player he's going to be."
Hield now has 195 three point makes this season in just 57 games to surpass his previous high of 176 set in the 2017-18 campaign. He is currently tied for fourth in the NBA in three-point percentage.
Hield is averaging a team leading 20.5 points, 5.1 rebounds, and 2.3 assists per game. Hield is also shooting efficiently at 47 per cent from the field and 45 per cent from three.
"Buddy has found his niche, he's playing at the standard he was drafted at and he has got a great future. I spoke to him while he was here – he loves playing in Sacramento, I think they'll make the playoffs this year and he's the most dangerous weapon they have when he's shooting threes. If he keeps shooting the way he's shooting, I think they make the playoffs," Thompson added.
Ayton, the Suns rookie centre, finished with 15 points, eight rebounds and five assists but his Team World lost 161-144 to Team USA in the MTN Dew Ice Rising Stars.
Ayton currently leads all rookies with 30 double-doubles, averaging 10.5 rebounds per game and a .588 field goal percentage. He also ranks second in scoring at 16.5 points per game in 53 appearances this season. His field goal percentage is the third-highest in NBA history by a rookie qualified for the league leaderboard and the highest by a rookie who is averaging a double-double.
"He's a complete player – he can defend, he can shoot the mid-range, he has back-to-basket skills, he's a good rebounder so all he has to do is keep working hard and learning the game because he has all the skills, all the tools and he's going to be an All-Star for the next 15 years," Thompson said.
Klay said it continues to be an added benefit to have his father at the game as the All-Star weekend presents an opportunity for the league to bridge the gap between past and present stars.
"It's a dream just to be here and to be with your family, it's such a blessing. It's a unique experience not only to be here with the greats of today but those of the past who paved the way for us to do what we love," he said.
"I'm happy the NBA does such a great job bringing back the past legends who put the sport on the map and to see them out there admiring our skill, it's a great feeling."