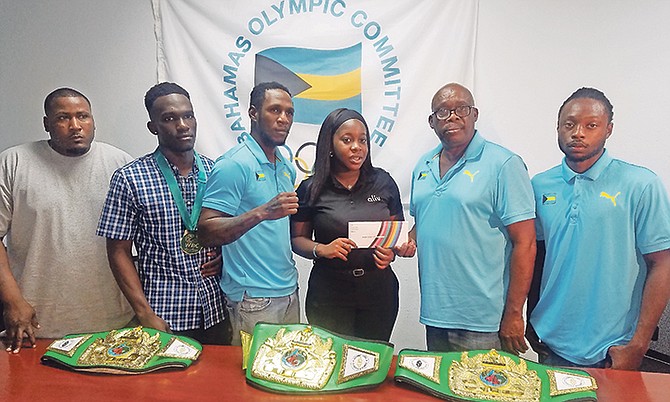 By BRENT STUBBS
Senior Sports Reporter
bstubbs@tribunemedia.net
IN preparation for the Pan American Games qualifying tournament, the Bahamas Amateur Boxing Federation will be sending veteran boxer Carl Hield, Ronald Woodside and newcomer Lennox Boyce to train in Cuba.
The three boxers are coming off their successful trip to Orlando, Florida in November where they were all successful in winning their amateur belts at the Sugar Bear Boxing Tournament.
Federation president Vincent Strachan thanked Aliv for making it possible for the boxers to travel. He noted that the sponsorship will enable the boxers to travel up to the Pam Am Games pre-qualifier, scheduled for April 2-11 in Managua, Nicaragua.
"Based on what happens in the qualifying round, we would look forward to them remaining in Cuba until the World Games in September," Strachan said. "That is the plan because after these events comes the World Games. So these are some high level events."
Strachan said prior to competing in the World Games, the boxers could possibly go to Taiwan to compete in another tournament to help sharpen their skills.
"If they qualify, they will come home for Christmas, enjoy junkanoo and go back to Cuba until the Olympics," he stated. "That is the plan. So it's an expensive undertaking and like I said earlier, Aliv has certainly made that bold step in ensuring that this becomes a reality."
However, Strachan said it is hoped that a number of boxers, including Vincent Deleveaux, Rico Arnette and Colin Ingraham from Inagua will all get to travel to Cuba to work with the boxers.
Additionally, he said that Ray Minus Jr, Kayla Johnson and Keishno Major will also get to travel to Cuba.
While in Cuba, Strachan said these coaches will be given the opportunity to participate in IABA Level One coaches' certification courses to help improve the standard of boxing in the country.
Jayme Pinder, a marketing executive at Aliv, said they pride themselves in not just being a telephone company, but known for their community involvement.
"We understand what this organisation is doing for boxing in the Bahamas and for these amazing boxers here and we want to continue our support," she stated. "We are appreciative to be on board with you guys and we look forward to you doing well in your training and when you get back, we will greet you all in the Aliv way."
Hield, who has been a fixture on the national team for more than two decades, said he's honoured to be going back to Cuba - where his training base is located - with the two boxers to prepare for the qualifying tournament.
"Training is just going to get better because we will get back down to training with the different countries and the Cuban national team," he said. "We have six weeks to prepare for this qualifier, which is not going to be an easy qualifier.
"It's going to be a very tough qualifier because you have all of the countries in the Americas are going to be there."
Hield, 32, expressed his gratitude to Aliv for giving them an early start in their training camp and with the new administration in place, headed by Strachan, they are more motivated to go through the preparation stages.
"We have to be one of the top 12 boxers in our division to qualify," said Hield, who will be competing in the 69 kilogram class. "We just have to go in there, fight hard and get the wins."
As the elder statesman of the group, Hield said Boyce will have some work to do, but he's confident that in going to Cuba, he can accomplish it in Cuba. As for Woodside, Hield said he's been there before so he knows what he has to do to improve on the circuit. "They just have to believe in themselves," he said.
While most of the other boxers whom he's been travelling with internationally have either retired or turned professional, Hield said he has stuck around in the amateur ranks because he has one goal in mind and that is to win a World Championship or Olympic medal before he retires and switches to coaching.
"I have medals from Pan Am and CAC, but my dream is to be the first Bahamian boxer to win a medal at the Olympics or the World Games," he said. "That's what keeps me around and around. This is like the last shot so I have to push everything in it."
Woodside, who fights in the 60kg or 132 pounds, said having been to Cuba before, he knows what the training is like, so he's excited to be going back.
"It ain't new to me. It's just getting back in shape and trying to put myself in a position to qualify for the Pan Am Games and to go there and try to go on and win a medal at the games," he said.
Back in action last year after taking about two years off, Woodside said he was inspired by his performance in Orlando in November and he hopes that he can build on the experience as he moves forward.
For 18-year-old Boyce, who will be boxing out of the 141-pound division, the trip to Cuba should benefit him more because of what he has gone through here at home. "Every day I pray to God and I train hard and I have a real focused mind to accomplish greatness and to make my country proud, my sponsors and my parents," he said.
Boyce, who was introduced to the sport by Ray Minus Jr, said it's been a difficult road for him because he hasn't been able to get any competition here at home. But he has kept pushing because his goal is to qualify for the Olympics and eventually win a medal.
"Over the last year, I've kept up with my training to make sure that I am up and ready to go whenever there is a tournament," he said. "It was kind of hard to stay motivated and stay training at the time."