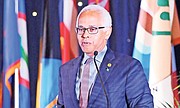 By NEIL HARTNELL
Tribune Business Editor
nhartnell@tribunemedia.net
The Bahamian hotel industry's strong 2018 performance has eliminated "genuine fears" that Baha Mar's full opening would "cannibalise" the market, a Cabinet minister argued yesterday.
Dionisio D'Aguilar, pictured, minister of tourism and aviation, told Tribune Business that the across-the-board improvements in revenue and occupancy indicators showed that concerns Baha Mar would split the high-end visitor market with Atlantis had proven to be unfounded.
He argued that this development was "more important" to the hotel and tourism industry's future prospects than last year's increase in stopover visitor numbers and spending, since it indicated The Bahamas' two mega resort casinos could co-exist without sparking a "race to the bottom" on room rates in a bid to seize market share.
With the Nassau/Paradise Island hotel industry figures backing the "build it and they will come" mantra, Mr D'Aguilar said he had to believe the increased visitor numbers and spending was "spilling through" to tourism industry employees and the wider economy despite November's 60 basis points increase in the national unemployment rate to 10.7 percent.
"What was wonderful about 2018 was not only that the number of stopover visitors was up, but what was more important was there was no cannibalisation of our two major hotels," he told Tribune Business.
"That was a concern for us, but there was no significant diminishing of room rates. Hotel revenues are essentially a function of room rates multiplied by occupancy. What we noted was occupancies were where we expected them to be, as legacy hotels maintained their occupancies and rates by and large.
"With the coming on stream of the 2,300 rooms at Baha Mar, there was a concern there would be cannibalisation with people shifting from one hotel to the other, but hotels were largely able to maintain their occupancy and rates, which was why we had the significant increase in revenues."
Tribune Business reported on Wednesday how Ministry of Tourism data showed that the average daily room rates (ADRs) and revenue per available room (RevPAR) data for Nassau/Paradise Island hotels finished ahead of 2017 comparatives in eight and seven months, respectively, of 2018.
Average ADR closed at $250.57 for 2018, as opposed to $239.26 the year before. Average daily room rates were higher for the entire first quarter winter season and Christmas period in 2018, and only slipped behind 2017 comparatives in the weaker summer months.
Similarly, revenue per available room (RevPAR), which is a key indicator of hotel performance, stood at a $154.60 average for the full year as compared to $145.34 in 2017. While its performance was slightly more uneven, it finished ahead of prior year comparatives for most of 2018.
Nassau/Paradise Island hotel industry occupancies were slightly ahead of 2017, closing last year at 61.7 percent compared to 60.7 percent the prior. That was achieved despite the full availability of Baha Mar's extra rooms, but was also sided by the US economy's strong growth and rise in consumer confidence coupled with the continued recovery of rival storm-ravaged Caribbean destinations.
"There were fears revenue would not increase, but clearly that wasn't the case," Mr D'Aguilar told Tribune Business. "There was a genuine fear there would be cannibalisation, and Atlantis did an excellent job. It maintained occupancies, and any change in rate was negligible.
"That demonstrates the robustness of the tourism industry in 2018, and it looks like it's carrying over into 2019. Room rates were virtually the same as 2017. The major difference was the addition of 2,300 rooms. If we maintain the same rates, but have a significant increase in supply and occupancies associated with that supply, you have an increase in revenue - which is what we saw."
Fears of potential "cannibalisation" date back to when the Baha Mar project was first conceived by original developer Sarkis Izmirlian, with observers expressing concerns that the two mega resorts would split - rather than grow - the market for high-end visitors that this nation's tourism and hotel sector largely rely upon.
There were fears that this would spark a chain reaction of heavy room rate discounting, as both Baha Mar and Atlantis fought for market share, plunging both properties into a loss-making position that would harm The Bahamas' tourism performance and market positioning.
But the Nassau/Paradise Island hotel industry's 2018 performance suggests such concerns may be unfounded, and that there is sufficient demand - especially from The Bahamas' core US eastern seaboard markets - to sustain both, at least for the short-term.
"It lends credence to the adage build it and they will come," Mr D'Aguilar said of the 34 percent year-over-year room rise for the sector. "There was a real fear that as Baha Mar began to ramp up and come on stream that there would not be sufficient demand for the destination.
"It bodes well for the destination that when these new facilities come on stream it doesn't negatively affect it in a meaningful way, as visitors are still going to the other hotel. Baha Mar is generating new customers."
Despite a banner 2018, which veteran hoteliers described as bringing "gains not seen for ten years", many Bahamians have yet to feel and see the benefits coming through to them through increased employment, incomes and living standards.
The Bahamas' national unemployment rate rose to 10.7 percent last November, a slight uptick on the 10.1 percent recorded in May 2018, indicating that the economy is still not growing fast enough to provide jobs for all seeking work despite the strong showing by the country's largest industry.
"I've got to believe it is spilling through," Mr D'Aguilar told Tribune Business of the tourism growth. "Obviously you've got the employment increase associated with the number of visitors coming to the country.
"They have to be catered to and then, obviously, you have the gratuities and pay accruing to those individuals who are servicing these visitors. You also have the suppliers to the hotels. Can we generate more from tourism? Absolutely. Probably the greatest area of growth is tours and fun things to do."
Mr D'Aguilar said growth in the Airbnb-led vacation rental market was helping to supplement the hotel industry's performance, and spread the sector's financial benefits more widely. He added that tourism's expansion was "not limited to Nassau", with islands such as Abaco, Eleuthera, Exuma, Bimini and San Salvador all performing well.
"This growth is being felt throughout the length and breadth of the country with one or two exceptions," Mr D'Aguilar told Tribune Business.