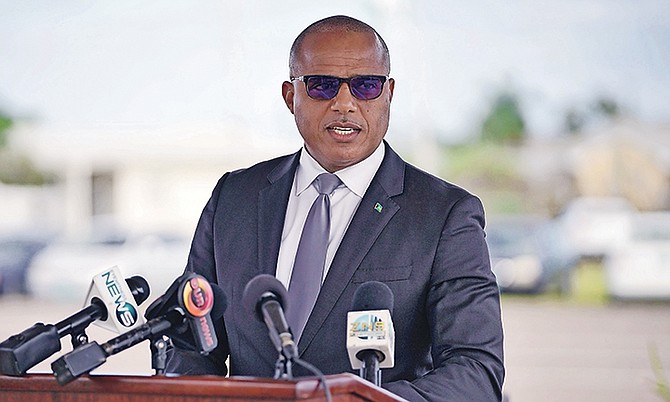 By MORGAN ADDERLEY
Tribune Staff Reporter
madderley@tribunemedia.net
SHOTSPOTTER technology should be in use throughout New Providence by the end of March, National Security Minister Marvin Dames said on Thursday.
In addition, Mr Dames said the police force was making progress over the introduction of other crimefighting tools such as CCTV, body cams, and dash cams.
Mr Dames was speaking to reporters at Police Headquarters the day after a quadruple shooting that occurred in Yellow Elder Gardens that left one man dead and three others, including a woman, in hospital.
He said while law enforcement has done what it can to adapt its strategies, there is "still a long way to go" in continuing to stem the tide of violent and often deadly gun crimes.
"As we speak now, we have the team in from Shotspotter and we're hoping that certainly by some time during the end of next month that system should be up throughout New Providence alive and well, and we would be able to capture something like that and respond almost instantaneously," he said.
According to its website, ShotSpotter technology is "an advanced system of sensors, algorithms and artificial intelligence (used) to detect, locate and alert police to gunfire".
Last month, Mr Dames announced that the government entered into an agreement for a Shotspotter system.

At the time, he said: "We are excited (and) we are looking forward to it."
On Tuesday, Commissioner of Police Anthony Ferguson suggested authorities don't want to divulge too many details on the technology.
When asked for an update on Shotspotter, Mr Ferguson told reporters: "That is a piece of technology you will hear it and it is really…we really don't want to give too much information to the persons that we expect to take into custody. And so all I will say, it is ongoing."
Late last year, Mr Dames said plans were in place to introduce law enforcement drones, bodycams, the ShotSpotter technology and expand CCTV before June of this year.
The national security minister also provided updates on body cam, dash cam, and CCTV technologies on Thursday.

"Cabinet just approved the body cam RFP (request for proposals) a few weeks ago, we're sending that out," Mr Dames said. "We have our CCTV second phase should be, (the RFP) it's out there now, and the first week in March we should be getting it back and having a good idea as to who would be providing us with additional cameras and we will be coming on during the next phase with the dash cams for the cars."
Earlier this month, Mr Dames provided updates on the government's plans to roll out a drone programme to aid crime fighting.
"As far as the drones programmes is concerned, hopefully within the next few weeks we should know who that company is," he said at the time. "That was a very, very involved process and I want to commend the team that was responsible for actually going through the elimination process.
"They did a tremendous job. You know, we end up with the right company, the company that will serve our needs here in The Bahamas and the company that will allow us to continue to do what we need to do and assist us in executing to bring crime down to make our people safer."