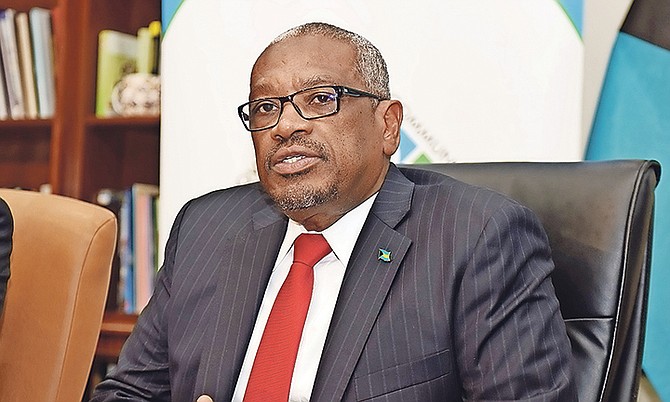 By DENISE MAYCOCK
Tribune Freeport Reporter
dmaycock@tribunemedia.net
PRIME Minister Dr Hubert Minnis told jubilant party supporters in Grand Bahama that before retiring he will serve a second term as prime minister. Dr Minnis expressed confidence in his party's victory at the polls in 2022 at the FNM's headquarters in Freeport, where he received a resounding welcome on his arrival at a special meeting on Friday evening.
He told those gathered that under his administration Grand Bahama is well on its way to a revival of jobs, and business and entrepreneurial opportunities for Bahamians. "Just before elections before we win the next election taking me into my second term, after which I will retire, and I am certain, you will give these young people the opportunity to carry on. So, GB, let me ask you tonight after I am finished with my second term, will you give my young people the benefit of taking it on," he shouted.

"Will you support Kwasi Thompson, Michael Pintard, Peter Turnquest, Iram Lewis, Pakesia Parker-Edgecombe, Shanandor Cartwright, Frankie Campbell, and Jasmin Dareus? So, I know that in eight years as I depart the scene, I would have left the country in good hands," Dr Minnis said.
He did not mention Pineridge MP Frederick McAlpine, who was the only GB MP not present at the meeting.The prime minister criticized Opposition Leader Philip 'Brave' Davis and the PLP on their "corrupt legacy" during their governance that was bogged down with scandals and corruption.
"They are no good for Grand Bahama and cannot be allowed back in office," he said, recalling the controversy at BAMSI concerning contracts that were not tendered, and the uninsured dormitory fire.
The prime minister highlighted several of the new significant developments that are underway in Grand Bahama, including a $10 million medical school, $4 million CGI investment, $2 million GB Power solar plant project, and $100 million Carnival cruise port in East Grand Bahama, among the many business expansions and new businesses that are coming on stream.
"So, GB and FNMs, I ask you tonight what time it is? Whose time is it? Dr Minnis asked the gathering, which replied, "The People's Time."

The atmosphere and energy of the meeting took on the tune of a mini-rally, with catchy 'Roc with Doc' FNM campaign songs and phrases.

Dr Minnis indicated that the unveiling of the long-awaited Carnival cruise port would play a leading role in the revival of job and business opportunities, and a new spirit for GB.
Admitting that things had bot been easy in Grand Bahama for a long time, the prime minister said they would continue to fight to ensure the success of the island and residents here. He noted that he is aware of the challenges faced by residents, particularly with qualifying for housing.

Dr Minnis indicated that GB has always been a part of the backbone of the FNM. "GB, I love you; I ask you do you love me? Nassau, Inagua, Mayaguana, Acklins, and Crooked Island, Bimini, Eleuthera and Andros, speak for them in the GB, do they love me, and the FNM?"
"We know that it has not been easy; you have been struggling for a long time; we know what you have been going through, but we are fighting for you. Your FNM team in GB is fighting for you, and we will keep fighting for you, and we must fight to keep them blank (PLP) cats out.
"I could have filled in the blank; I won't fill in the blank. Nassau will fill in blank because they will keep them cats out. Andros will fill in the blank because they will keep them cats out. And Bimini, Eleuthera and MICAL are waiting to fill in the blank because they are using capital letters keeping those capital cats out.
He said that PLPs are desperate for power and to get their hands around, on, and in the cookie jar. "They (the PLP) don't mean you well. Things are getting better for you GB; the tide is turning. The GB revival has begun and will get even better. We will not rest until there is a new day for you and all Bahamians," he said.