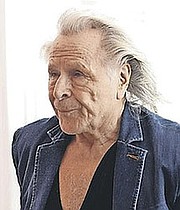 By RASHAD ROLLE
Tribune Staff Reporter
rrolle@tribunemedia.net
PETER Nygard has filed new court action in the United States against Lois Bacon, according to US reports.
The Winnipeg Free Press reported: "Court documents filed February 19 with the US federal court in Manhattan state Nygard alleges Bacon hired private investigators to find and bribe witnesses in 2015 and 2016 to testify that Nygard had 'prepared a hit list to murder' several individuals, had hired individuals to commit arson, and other criminal activities. The (Racketeer Influenced and Corrupt Organizations Act) complaint appears to be an extension of a lawsuit and counter-suit from 2016 between Nygard and Bacon and other legal actions in the US, which allege similar wrongdoing. The lawsuits are part of an ongoing dispute between the two men over how Nygard expanded his island property using illegal dredging. A spokesman for Bacon told the Free PressNygard's claims in the RICO complaint are baseless and have been dismissed by the courts previously.
'It is unfortunate that Peter Nygard insists on burdening the courts by repeatedly repackaging and recycling these baseless claims, when nearly identical claims have already been dismissed,'" Mr Bacon's spokesman said. 'This new suit is just more of the same from Mr Nygard, who tries again and again to smear his victims with outrageous legal claims that end up going nowhere.'"
A local warrant is out for Mr Nygard's arrest after he failed to appear for sentencing on January 28 for two counts of contempt of court for failing to comply with court orders prohibiting dredging activities. Through his representative, Mr Nygard claimed he was too ill to travel.
In recent weeks, The Tribune has reported that Mr Nygard's fleet of cars and boat have been transferred out of the Bahamas. Last week, two vehicles were joined by a speed boat, Humvee and an open-top vintage sports car on the deck of a ferry in Arawak harbour.